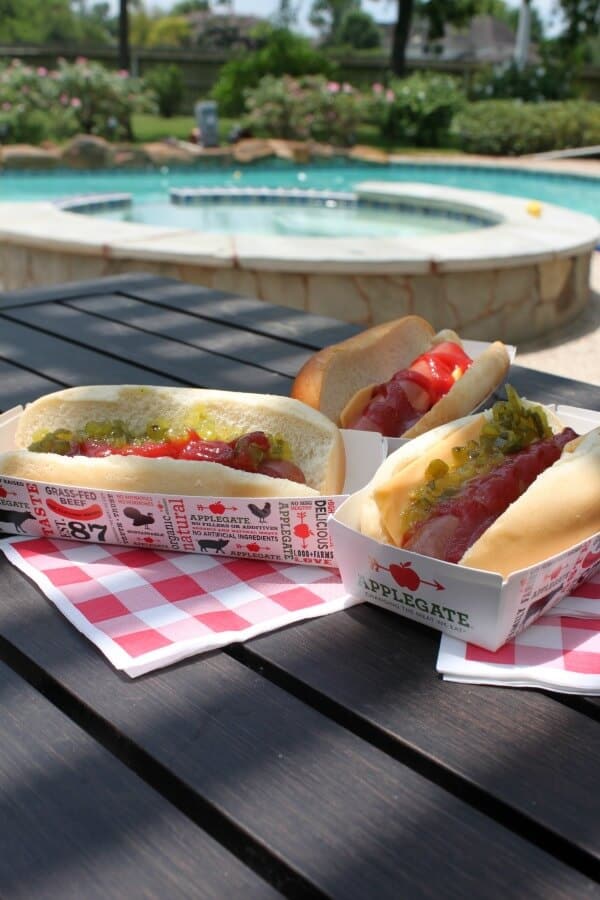 Today is National Hot Dog Day! Not that we need an excuse to eat hot dogs at our house. I'll admit, we used to eat a lot more hot dogs when the kids were younger but then I kind of stopped buying them when I realized just what kinds of stuff (and not great!) goes into traditional hot dogs. But about a year ago, I discovered Applegate and their awesome line of meat products that are organic and not filled with a lot of extra junk. Their hot dogs have four simple ingredients AND you can pronounce them all! Just Beef, Water, Salt and Spices. That's it! Hooray! We can now have hot dogs again and I can have a clear conscious when I serve them.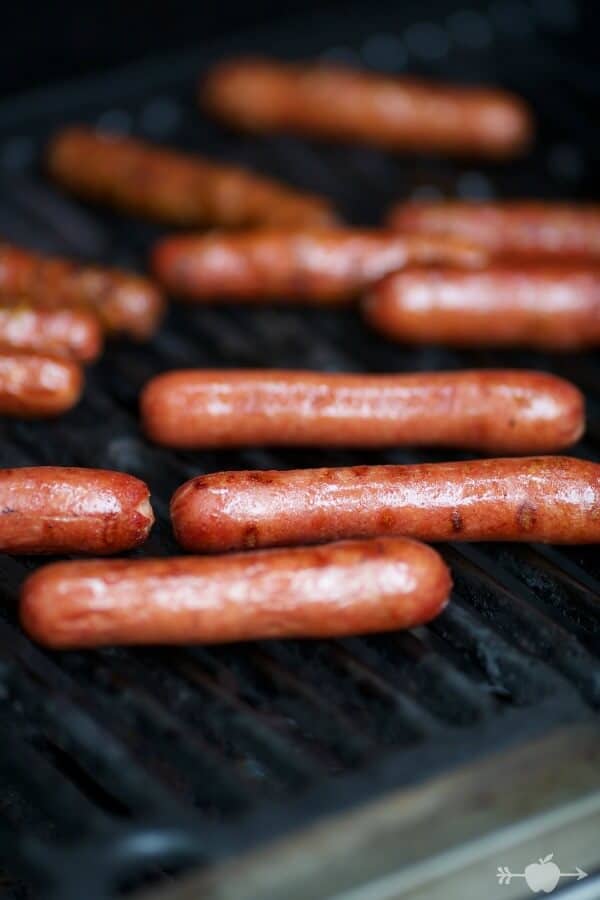 Since buying Applegate products more regularly in the last year, whenever we have friends and family over for a backyard barbecue, we serve Applegate All-Natural Beef Hot Dogs. Many have never heard of Applegate, nor tried it. So it's always a good time for a Wienervention when it comes to learning how to eat a bit more clean! Applegate hot dogs taste a lot more like real meat, too. They don't have all those extra fillers that can make them seem squishy and weird. Applegate shared with me that a new survey finds that while 92% of Americans bought hot dogs in the last year, 80% agreed that most hot dogs are low quality and unhealthy. It's worth it to me to spend the extra dollar or so (really, not that much more expensive surprisingly!) for good quality food for my family. We like our hot dogs pretty simple, usually just with ketchup and pickle relish and occastionally cheese. Sometimes I'll go for a chili dog too! What do you like on your hot dogs?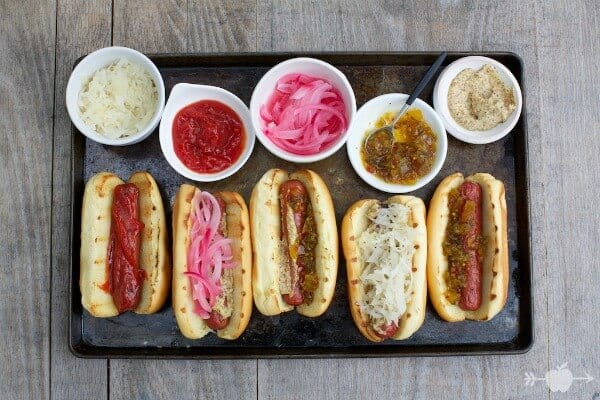 So I was super excited to receive a Summer Grilling Wienervention Kit from Applegate recently since we moved and have an awesome big backyard (our old yard was pretty tiny!) to do some grilling. We are looking forward to doing a lot more entertaining in our new yard. And the folks at Applegate want to share the yummy goodness that they shared with me and act as a "Meatiator" and provide one of YOU with a "Wienervention" kit of your own so you and your own family and friends can enjoy cleaner wieners and never look back! So I'm giving away a kit just like what I got (valued at around $100!) It includes:
Applegate Naturals Beef Hot Dogs
Rudi's Hot Dog Buns (White and Gluten-Free)
Annie's Organic Ketchup and Mustard
Rick's Pick's Relish
Applegate Apron
Grilling tool set
Frisbee
Mini Applegate Cooler
Susty paper straws and napkins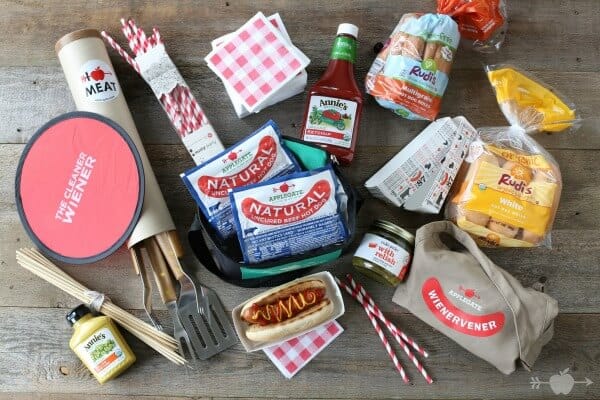 Entering it easy–just add a comment below that lets us know you or your family's favorite way enjoy hot dogs. For extra entries, you can choose to follow me on Facebook and Twitter, tweet about this giveaway or follow Applegate on Facebook or Twitter too. I'll be using Rafflecopter to choose the winner so see the entry form below to get started with your entries (it will help keep track of when you follow on Facebook or Twitter and notify me that way). Winners will be notified via email within 48 hours of the giveaway ending and given 48 hours to respond. If I do not receive a response within 48 hours, I will select a new winner.
THIS GIVEAWAY HAS ENDED. CONGRATULATIONS TO RACHEL S. FOR BEING THE WINNER!

Good luck!
a Rafflecopter giveaway

Make sure you don't miss future giveaways, recipes and other meal planning organization ideas. Be sure to CLICK HERE so you can subscribe to all the updates. It's simple and you'll also receive weekly inspiration in you inbox!

Disclaimer: I received a Summer Grilling Kit from Applegate and have been compensated for this post although all opinions are my own!