This post may contain affiliate links. Please read my disclosure policy.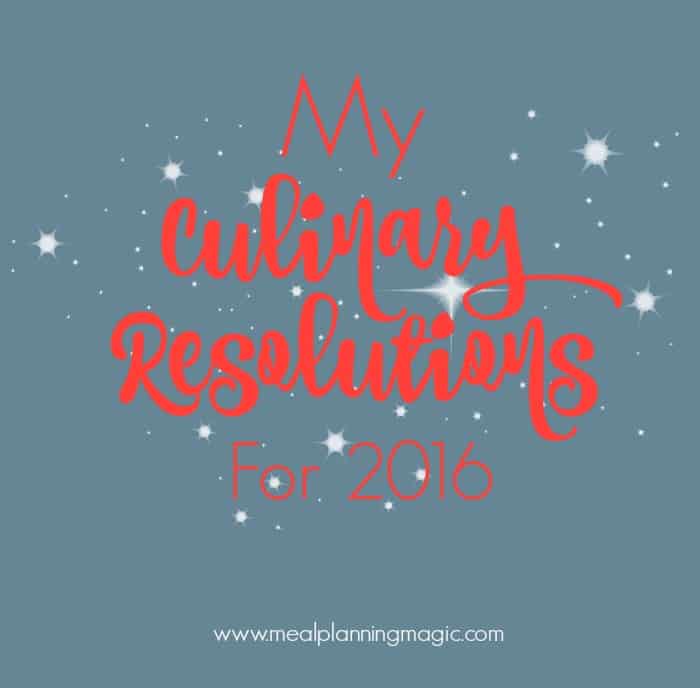 It's been a few years (three in fact) since I've made some culinary goals hear on the blog. In our family, we try to focus on our whole health and exercise when we can and try to get enough sleep each night. But I find that even though I write about food and planning, keeping things new and interesting as my kids grow is a constant challenge. Making Culinary Resolutions for myself and family is a good way to develop some focus when it comes to making real changes in the kitchen. This year I asked my family for their input and surprisingly they offered some suggestions that I had in mind too (see #1). This is great because if we approach it as a team effort, we'll be more likely to follow through.
So here's my list of Six Culinary Resolutions for 2016!
1. Eat more veggies. I'm pretty sure this will never leave our list unless we decide to go vegetarian so it's a challenge I constantly struggle with. Preparing and serving vegetables for snacks or as part of our main meals is a daily goal for me.
2. Go vegetarian at least one day a week. This was actually a suggestion from my husband which pleasantly surprised me. His motivation comes partially from a health standpoint but also from a carbon footprint standpoint. We'll still be eating meat for now but just trying more vegetarian options too. Which should go pretty well with my first resolution, right?
3. Help the kids expand their cooking skills. My kids are teen and preteen age now and are actually pretty good in the kitchen.  My high schooler can follow a recipe and pretty much do what she needs to to get a meal made and on the table. My middle schooler has a bit more limited experience but likes to help me in the kitchen and has asked to learn more. We'll all be making a list together to focus on where we should begin this year!
4. Learn to use food related apps and other online tools. Sadly, this is something I've not yet done much with. I know there are SO many apps that help with shopping, saving money through coupons and meal planning. I know there are TONS out there that I want to check out. I'll be sure to share anything interesting!
5. Cook from Pinterest more regularly. I LOVE to pin stuff to my Pinterest boards but my ratio of actually making what I pin is not so great.  I need to start MAKING more of them. Who's with me on that one?
6. Decrease food waste. I feel like in the last year I've done much better about using up what we have but my downfall is when I buy something like fresh produce and have leftovers, I don't always remember it is in the refrigerator. Nor does my family (and sometimes they don't even know it's there to begin with). I have become a lot better about cleaning out the refrigerator regularly (i.e. checking in there often to see what needs to be used up) and will be starting a Use-It-Up Grocery Challenge here soon so you can join in too!
Have you made any culinary resolutions for this year? Share in the comments below so we can all support each other!