This post may contain affiliate links. Please read my disclosure policy.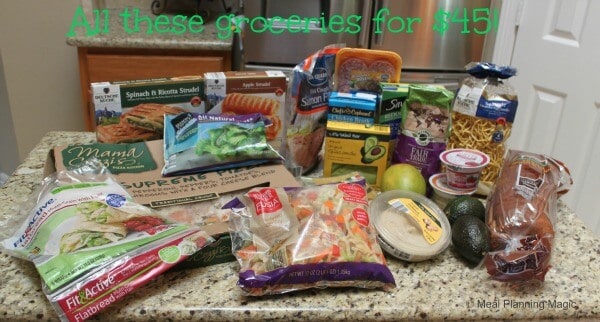 Today is a big day in the Houston grocery store market. Today, nine new ALDI stores opened all around the city and a total of 30 are planned to open in the next two years. Earlier this week I had the opportunity to visit one of the new ALDI stores. ALDI may be nothing new for some of you but after hearing from many of you on my Facebook page, I couldn't wait to check it out!


What's so great about ALDI? The prices! At ALDI, prices are up to 50% lower than national brands. How do they do it? Well, 95+% of the products offered are their own private label. But don't let that scare you. They have five test kitchens and five professional chefs that work to develop products that taste as good as or better than the national brands you're used to buying. I taste tested several items and I was impressed for sure!
At ALDI you won't find aisle after aisle of grocery items. Instead, the smaller concept store is only five aisles and about the size of a local chain pharmacy.
Ready to start shopping at ALDI? Keep these tips in mind:
Bags are optional—sort of. At ALDI, they keep prices low by asking you to bring your own bags. Forgot yours? You can purchase plastic bags at the checkout for $.10 each. But when you bring your own bags, you'll not only save some green in the form of money, you'll also be "green" and planet friendly too! Check out my post with some tips for remembering yoru bags!
Bring a quarter. Carts cost a quarter to "rent". No more carts rolling away and disappearing if you want that quarter back!
Bring cash or debit cards or EBT cards. Because credit card companies charge retailers a processing fee so in order to keep prices low, they don't accept them.

Bag Your Own. After you check out there is a long counter where you can bag your groceries. By not paying an employee to do it for you, the savings is again passed on to the customer. Plus, I actually prefer to bag my own groceries so I can organize the items in the way that makes sense to me when I get home to unpack AND I don't have to worry about the bags being too heavy for me to carry.
You can do the Switch & Save at Aldi yourself to see how much you can save!
I found some terrific deals on my visit. Some of my favorites were the:
Avocados for $.29 each
Hummus for $1.99 each
Whole Grain loaf of bread (no artificial colors or high fructose corn syrup either!) $1.39 each
Supreme Deli Pizza–16″-$5.99 each (we loved it by the way)
Thin Wheat Crackers for $1.39 each
Packaged Guacamole for $2.99 each ($3 less than the national brand)
One pound frozen broccoli florets (most leading brands are a lot smaller package!) for $1.99 per bag
Wild Caught Salmon (frozen)–one pound for $4.49 each
Twenty-one items in all for $45.39! My family has already enjoyed many of the items I got that day and so far, we have loved them all. My goal when choosing items was to look for products that were similar to what I already was used to purchasing. I still read labels to make sure the ingredients were satisfactory for my family AND low priced.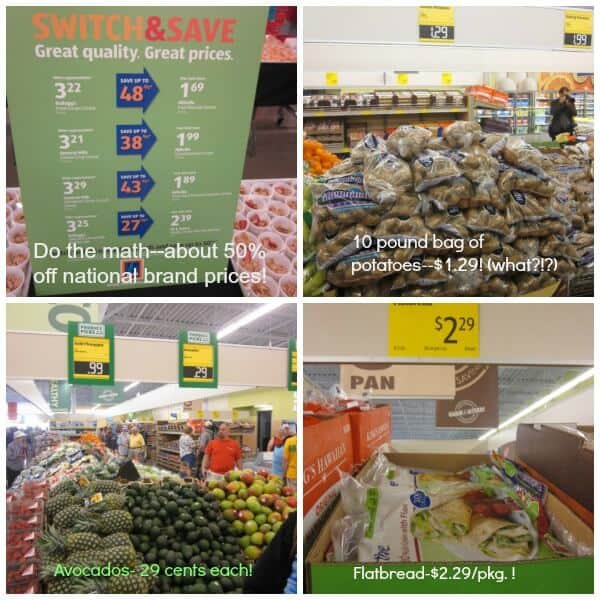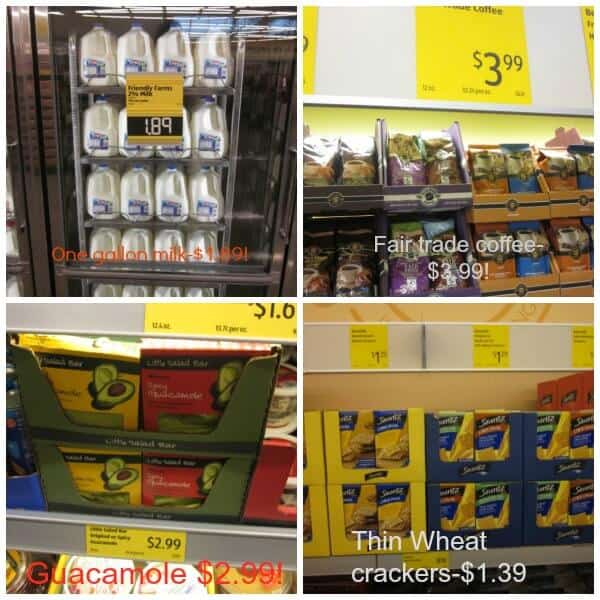 ALDI is so sure you'll like the products you buy that they offer a Double Guarantee. They believe that their products are the best quality out there and that they will beat the national brands in taste and quality. If you don't agree, you can not only return the product for a full refund but you'll also receive a replacement just so you can give it one more try.
Visit the ALDI website to find out weekly specials, get recipes or find the store closest to you. They're even on Facebook!
The new stores opening in Houston are:
Grand Opening Celebrations & Ribbon-Cuttings

Monday, April 8

10:45 a.m.

Tuesday, April 9

10:45 a.m.

Wednesday, April 10

10:45 a.m.

2009 S. Mason Rd.

Katy, TX 77450

10402 Hwy. 6 South

Sugar Land, TX 77498

2045 N. Loop 336

Conroe, TX 77304

11510 Broadway

Pearland, TX 77584

6900 FM 1960 East

Humble, TX 77346

13340 Tomball Pkwy.

Houston, TX 77086

2302 FM 2920 Rd.

Spring, TX 77388

5930 Fry Rd.

Katy, TX 77449

4140 Fairmont Pkwy.

Pasadena, TX 77504
Disclaimer: I received the groceries shown here at the media event. I was not compensated in any other way to write this post (really, they didn't ask me to do anything at all). I was just so impressed with the prices I just had to share! All opinions are my own.