This post may contain affiliate links. Please read my disclosure policy.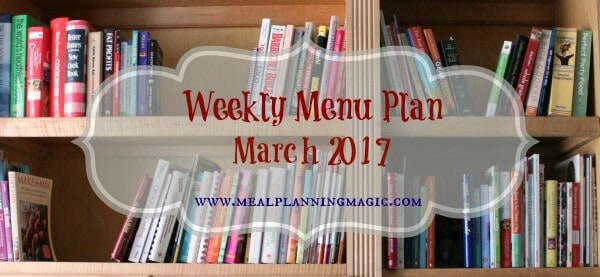 For years I've done Weekly Menu Plans but starting last month, I moved to a Monthly Menu Plan instead. So this one is my second monthly menu plan. Originally I thought I might include them in my weekly Monday Magic email newsletter (sign up here if you're not getting it!) but I've decided I wanted them in a place where you could access them over and over for your menu inspiration. Soon I hope to have them available on their own page here on my blog so you can find them whenever you want.
For now, I'm still mainly sharing dinner ideas. We're kind of a fly-by-the-seat-of-your-pants method family when it comes to breakfast and lunch. And we're actually kind of boring as we have a few favorites that we just rotate through most weeks.
When it comes to dinner, I want to remind y'all that I don't cook every day. I often include a leftover or out-to-eat night at least once or twice a week depending on our schedule. I also use a lot of meals from Dream Dinners so for those I'll try to find a similar recipe online to share with you since I don't have those recipes. As I mentioned last month, this Monthly Menu Plan format may be changing and adjusting a bit as I go along but I'd also love to hear YOUR feedback on what you want to see too!
So now, let's get on to the Monthly Menu Plan for March!
Week One
Monday: Dream Dinners Chicken Soft Tacos with sliced avocado
Tuesday: Slowcooker Spaghetti Sauce with pasta and a garden salad
Wednesday: Creamy Chicken Risotto and a garden salad Similar to this recipe:
http://www.foodandwine.com/recipes/mushroom-and-chicken-risotto
Thursday: Leftovers
Friday: Out to eat
Saturday: Homemade Tomato Basil Soup with garden salad
Sunday: Quick and Easy Pizza Quesadillas with garden salad
Week Two
Monday: Pizza Sloppy Joes plus carrot sticks
Tuesday: Bistro Style Steak and Onion Sandwichwith sliced cucumbers on the side
Wednesday: Bruschetta Chicken Skillet with garden salad
Thursday: Leftovers
Friday: Out to eat
Saturday: Dinner with Friends
Sunday: Grilled hamburgers and fixings
Week Three
Monday: Spanish Rice and Beef Skillet Dish
Tuesday: Copycat PF Chang's Chicken Lettuce Wraps (trying this recipe—a friend of mine says they're awesome!)
Wednesday: Crockpot Lasagna Soup and garden salad
Thursday: Slowcooker Italian Beef and Barley Vegetable Soup
Friday:Out to eat
Saturday: Special activity–no cooking for me!
Sunday: YOYO (You're On Your Own)
Week Four
Monday: Dream Dinners Pork Carnitas with Fire Roasted Corn, sliced avocados and sour cream
Tuesday: Slowcooker Potato, Kielbasa and Spinach Soup with Gouda plus garden salad
Wednesday: Meatloaf and mashed potatoes in the pressure cooker (separately but both still made in under 40 minutes!) plus garden salad
Thursday:Mini Parmesan Meatball Soup with Spinach and pasta (new recipe development)
Friday: Leftovers
Saturday: Out to eat
Sunday: Special activity-no cooking for me
Where do you find your recipe inspiration? What's on your menu plan this month?