This post may contain affiliate links. Please read my disclosure policy.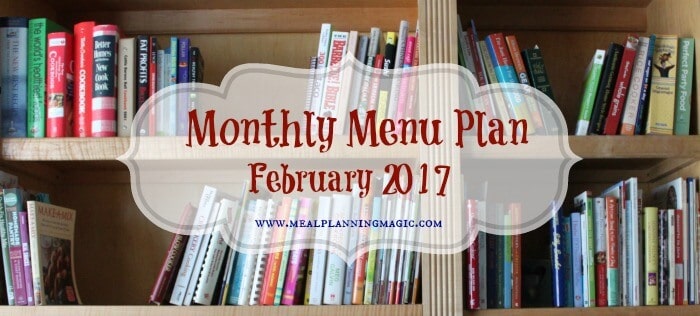 If you've followed me for awhile, you may remember that back in November-ish I mentioned I would stop doing my Weekly Menu Plans. Originally I thought I might include them in my weekly Monday Magic email newsletter (sign up here if you're not getting it!) but I've decided I wanted them in a place where you could access them over and over for your menu inspiration. So I decided to turn it into a Monthly Menu Plan and soon I'll have them available on their own page here on my blog so you can find them whenever you want.
I'll be sharing dinner ideas for what we actually eat! At some point I hope to add breakfast and lunch ideas too but I'm taking things one day at a time on this new format. Now, I want to clarify, I don't cook every day. I often include a leftover or out-to-eat night at least once or twice a week depending on our schedule. I also use a lot of meals from Dream Dinners so for those I'll try to find a similar recipe online to share with you since I don't have those recipes. I'm sure this format will be changing and adjusting as I get into the groove of things but I'd love to hear YOUR feedback on what you want to see too!
So now, let's get on to the Monthly Menu Plan for February!
Week One
Monday: Papa Murphy's Pizza (crazy night–this just works best for us!)
Tuesday: Simple Slowcooker Chicken and Steak Fajitas
Wednesday:
Thursday: Chicken Fettucine (daughter is trying a new recipe she found online) plus garden salad
Friday: Leftovers
Saturday: Homemade Parmesan Chicken Nuggets plus roasted broccoli
Sunday: Buffalo Chicken Pasta (from Dream Dinners) with gardens salad
Week Two
Monday: Chicken Florentine plus pasta side and garden salad–I'm trying a new recipe creation inspired by a local restaurant
Tuesday: Parmesan Pork Chops plus wedge fries and sliced carrots
Wednesday: Chicken and Cabbage Potstickers plus steamed rice and edamame
Thursday: Lemon Fish with Cucumber Dill sauce (trying a new recipe) plus salad and rice pilaf
Friday: Pizza Roll and salad
Saturday: Out to Eat
Sunday: Special occasion–no cooking for me
Week Three
Monday: Rustic Tortellini Soup plus salad
Tuesday: Pork Chops with Apples and Stuffing
Wednesday: Chicken Pot Pie Soup (new recipe development) plus salad
Thursday: Greek Island Shrimp with linguine plus baked fish and side salad
Friday: Leftovers
Saturday: Special activity–no cooking for me!
Sunday:

Week Four
Monday: Chicken Tacos with Key Lime Corn
Tuesday: Chicken, Rice and Black Bean Tortilla Soup
Wednesday: Homemade Spaghetti Sauce and Pasta plus garden salad
Thursday: Creamy Chicken Risotto plus garden salad
Friday: Leftovers
Saturday: Out to eat
Sunday: Special activity-no cooking for me
Where do you find your recipe inspiration? What's on your menu plan this month?