This post may contain affiliate links. Please read my disclosure policy.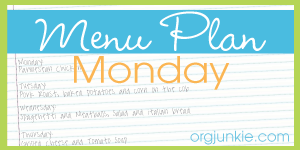 This week we've got a lot going on—food wise that is (well, regular life-wise too!) I'm cooking some favorites and trying a new recipe too!
I had hoped to do a roundup of some new Valentine's Day food ideas but it never happened. Instead, you can check out the roundup I did last year. Or check out the Produce For Kids Healthy Valentine's Day Pinterest board for some healthy inspiration! Many of the ideas are quick and easy so even if you're a procrastinator you can probably get something fun made for your family.
Speaking of Valentine's Day, I forgot to mention that last week I guest posted over at Frugal Antics of a Harried Homemaker. Kristin has got a whole month's worth of posts lined up all about chocolate! Let me tell you, I've never met a chocolate I didn't like but wow! What a great collection so far. I made Chocolate Lava Cake in the slowcooker and I promise, if you try it you will want to make it over and over because it is so super easy. Don't blame me though if you gain a pound or two afterwards!
Here in the South, lots of people will be celebrating Mardi Gras—which is tomorrow! Even though we're not from Cajun country, I still like to observe the holiday with some Cajun food. You'll see I've got Shrimp Jambalaya on the menu…it's a new recipe from one of my slowcooker magazines that I'm trying out.
The PTO Teacher Appreciation committee at our school is hosting a Bowl Full of Love luncheon for our teachers. We're providing a variety of soups for them to enjoy for their lunch as a pre-Valentine's Day treat to show them how much we appreciate them! I've volunteered to bring chili so I'm making a double batch for us to have at home.
So here's what's on the menu this week:
Monday: Chicken Tenders, roasted rosemary potatoes and steamed asparagus (bought on sale—the season starts early in Texas!)
Tuesday: Chicken & Shrimp Jambalaya, garden salad
Wednesday: Cowboy Beef & Black Bean Chili, garden salad, cornbread
Thursday: Vietnamese Take-Out—it's a more than decade long Valentine's Day tradition for us. For a special dessert, I'm going to try a chocolate pasta (yes!?!) with strawberries and cream for dessert. Or maybe some chocolate linzer cookies with raspberry filling. I've got some new cookie cutters I want to try out!
Friday: Leftovers
Saturday: Leftovers
Sunday: panini or soup—TBD
And be sure to check back Friday as I'll be kicking off our 2013 Eating the Alphabet series! I'll give you a hint: my recipe includes beets—something I've never tried cooking before—so hopefully you'll be inspired to try it yourself after you see how easy my recipe is.
So, what's on your menu this week?