I hope everyone had a nice Thanksgiving holiday (that is, if you celebrated last week!) If you've still got leftovers hanging around in the fridge and are out of ideas of what to do with them, check out this article I wrote recently for Produce For Kids, Top 5 Ideas for Your Holiday Leftovers. Maybe you'll find a new idea or two!
This past weekend we were visiting my inlaws and my brother-in-law (a fellow foodie) and I decided to go to the Barton Creek Farmers Market in Austin on Saturday morning to check it out. It was nice and had a great selection of all kinds of things! I got some fresh vegetables like dino kale, curly kale, purple/orange carrots, homemade strawberry cream cheese (from the dairymaker), broccoli and some homemade, gourmet whole wheat pasta. That's what I've got pictured here. I'm excited to try the different flavors–especially the chocolate pasta as a dessert! In southeast Texas, we're lucky to have most farmers markets open year-round.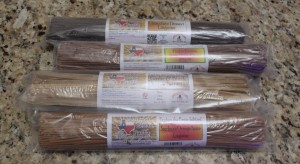 I'm still in the mood, and actually have some time this week, to cook so I'm not diving full on in just yet to the freezer meals I made a couple of weeks ago. Will save those for those nights that are REALLY busy! Here's what's on the menu this week:
Monday: Peachy Turkey Meatballs, steamed rice and edamame
Tuesday: Soy Ginger Flank Steak (from freezer meals actually), sweet potatoes and roasted broccoli (bought at the farmer's market)
Wednesday: Pizza Pasta (using fresh mozzarella we found on sale and pasta purchased at farmers market)–creation of my own using sauteed bell peppers and maybe mushrooms with pepperoni, diced tomatoes and cheese)
Thursday: Tuna Rollups or KFC Original Chicken copycat recipe (testing from a cookbook I'm hoping to review soon) OR Masala Chicken over steamed rice. Leaving this day up in the air because I've got several options so will depend on my mood and time that day. Ingredients are either already in the pantry or freezer or both.
Friday: leftovers
Saturday: leftovers
Sunday: Ham and all sides (I bought a ham before Thanksgiving when it was on sale so will try to make it a meal this weekend!)
I'm also sharing today a few of my favorite make ahead meal recipe ideas so that you can make one or two or all for your freezer for those busy nights this next month. I hope you'll let me know how you like them!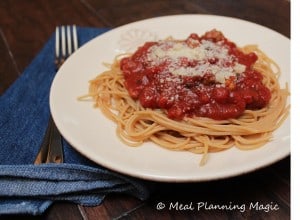 Slowcooker Spaghetti Sauce
What's on your plate this week? For more menu planning ideas, check out all the links here at OrgJunkie.