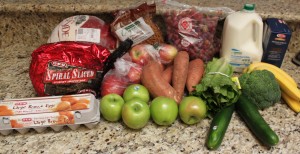 I sort of skipped last week's Menu Plan Monday. No real reason other than that I just didn't do it! But I can report that my groceries bill was only like $20 last week. Now, before you get too impressed the reason is because that weekend I did a big freezer cooking session to fill my freezer with meals for the rest of the year. I spent about $200 total for all those meals–more than 25 meals in all! More on how that session went to come in another post. And I probably could have kept it to about $15 if I didn't buy the extra apples and cream cheese to make some pumpkin dip to share at a little healthy snacks gathering at the gym that one of our instructors organized at the gym last week (very nice by the way!)
So this week is our last official week of the Pantry Challenge hosted by Sally at Real Mom Nutrition. And it's the week of Thanksgiving so things are a little bit off the norm. Still, my total bill this week was about $60. More than the $50 budgeted but I bought a ham because it was on sale and I got a free turkey with it. And I bought a lot of apples to take to our Thanksgiving gathering with family. And then a few other basics to get us through the week since I don't normally host Thanksgiving. Rather, we meet up with family and I usually bring a few dishes to share. All in all, I'd say $60 is not too bad because the ham and turkey alone will serve our family for many meals.
So here's what's on the menu this week:
Monday: Chicken and rice casserole made from my recent freezer session
Tuesday: Homemade chicken nuggets (from chicken bought for freezer session but never used), roaster broccoli (also leftover from freezer session), and homemade crispy sweet potato frieds (trying a new recipe)
Wednesday: Leftovers–Most likely from our Sunday meal which was "mystery" pork chops (a.k.a. the meat that my husband marinated and put in the freezer but never labeled so I wasn't totally sure what it was–but it WAS pork!), leftover quinoa and a garden salad
Thursday: Thanksgiving!
Friday: Thanksgiving leftovers
Saturday: Leftovers
Sunday: TBA
What's on your menu this week? Are you doing the Pantry Challenge too? Tell me about it!
Looking for more menu plan inspiration? Then check out this week's links over at OrgJunkie