This post may contain affiliate links. Please read my disclosure policy.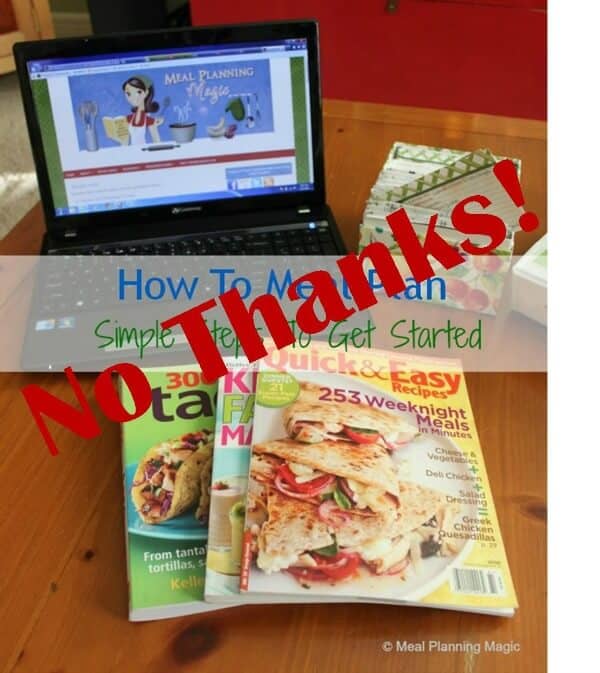 This Meal Plannning Mom has lost her mojo.
Her drive.
Her enthusiasm.
Yep, it's probably something you all thought would never happen, but it has. I just don't even feel like making a meal plan. Winging it seems to fit in better these days with our life. I've mentioned before that I have a crazy amount of non-blogging things going on in my life right now (all good though!) and balancing it all has been tricky. Let's just say, meal planning is one of the last things on my mind.
We've been getting by with a lot of Dream Dinners, meals from Costco (fresh and frozen), take-and-bake pizzas, dinners or lunches out on weekends and yep, even the occasional fast food! It's been weeks since I've actually cooked something from scratch. My daughter was missing my homemade meals so much that a couple of weeks ago she made homemade chocolate chip cookies (ok, that's not a meal obviously, but homemade nonetheless as the Girl Scout cookies were getting pretty boring for our sweet treats on the weekends).
At first I was feeling bad but then I remembered my Keeping It Real promise. Sometimes things just have to give and for me, that was my meal planning. I do feel better knowing that when we are going out, we're making healthier choices by going to places where the ingredients are fresh and relatively healthy. We like the burrito places (in our area, our favorite is Bullritos), Vietnamese (pho or bun thit nuong or banh mi sandwiches are our favorites) and salad places (we like Sweet Tomatoes or Salata). We try to take advantage of kids eat free times or use a coupon when we go out. Vietnamese in our area is just a cheaper option all around! Often times, when I'm making something that is a heat-and-eat, I'll still serve a fresh garden salad or other vegetable that is easy to roast (broccoli or sweet potato fries are favorites!) and I'll utilize my kitchen assistants like my rice cooker to help get things to the table more quickly and easily.
So why am I telling you all this? To tell you that it's OK to not feel like cooking and meal planning. It's ok when you hit a low. But eventually, and hopefully, you'll feel the bottom of that rut and want to come out of it.
The thing is I love to cook and I do miss that—a little. But as soon as things slow down for us a bit, I know my desire will come back.
How do you provide healthier meals for your family when you lose your meal planning and cooking mojo?