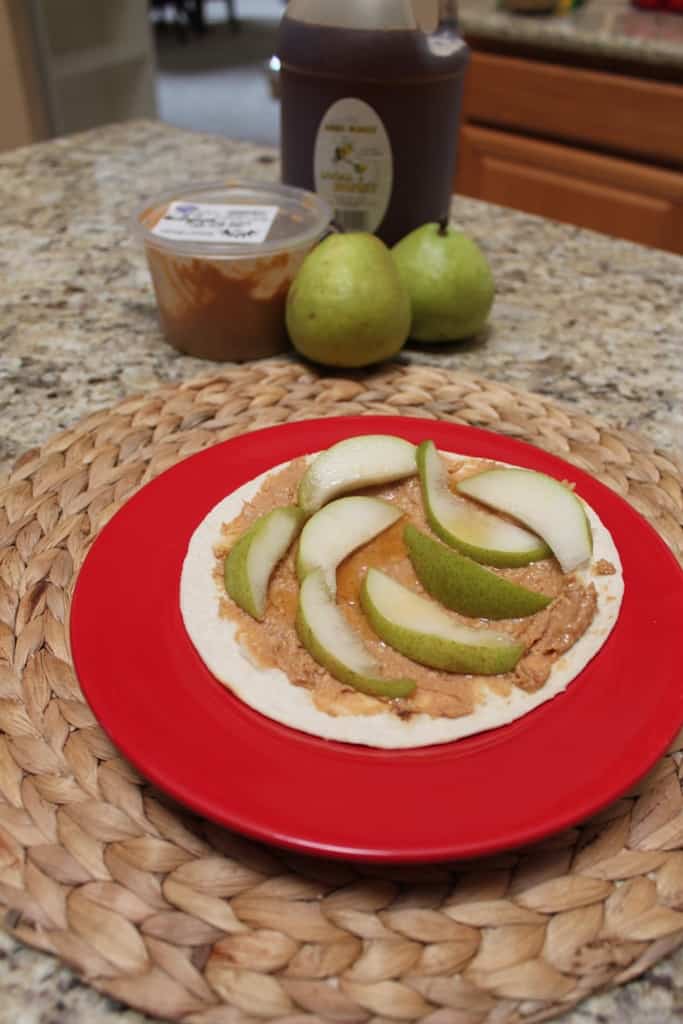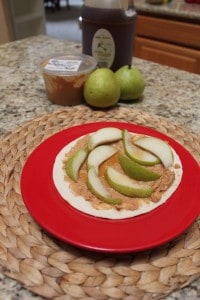 About a year and half ago I was shopping in my local Kroger and came upon at little display of recipe cards in the produce section. Not one to pass up new recipes, especially featuring fun ways to incorporate more fruits and vegetables into my family's diet, I grabbed a bunch. The Ideal Meals cards were actually part of a series of recipes from Produce For Kids, an organization that offers tons of ideas for families to eat more fruits and vegetables. It was right before summer so we made several that year but one of our most favorites actually became a twist on the Fruity Pita Sandwiches recipe. Here's the recipe in case you want to try it out yourself!
Fruity Pita Sandwiches
• 1 whole wheat pita bread, cut into 4 triangles
• ¼ cup almond or other nut butter
• 1 apple, washed, cored, thinly sliced
• 2 kiwi fruit, washed, sliced
Directions:
1. Divide ingredients for 2 servings.
2. Spread 1 tablespoon of nut butter in each pita triangle.
3. Place ¼ of sliced apples in each triangle along with ½ of a sliced kiwiServes 2
Preparation Time: 15 minutes
Ingredients:
MY NOTES: We like to change it up by using whole wheat tortillas in place of the pitas and thinly sliced pears instead of the apples. And since we do not have nut allergies in our home, we choose peanut butter. We will sometimes drizzle honey on it too. And we eat this for breakfast or after-school-snack so remember to think beyond the norm and serve things that your family will like, when the like them!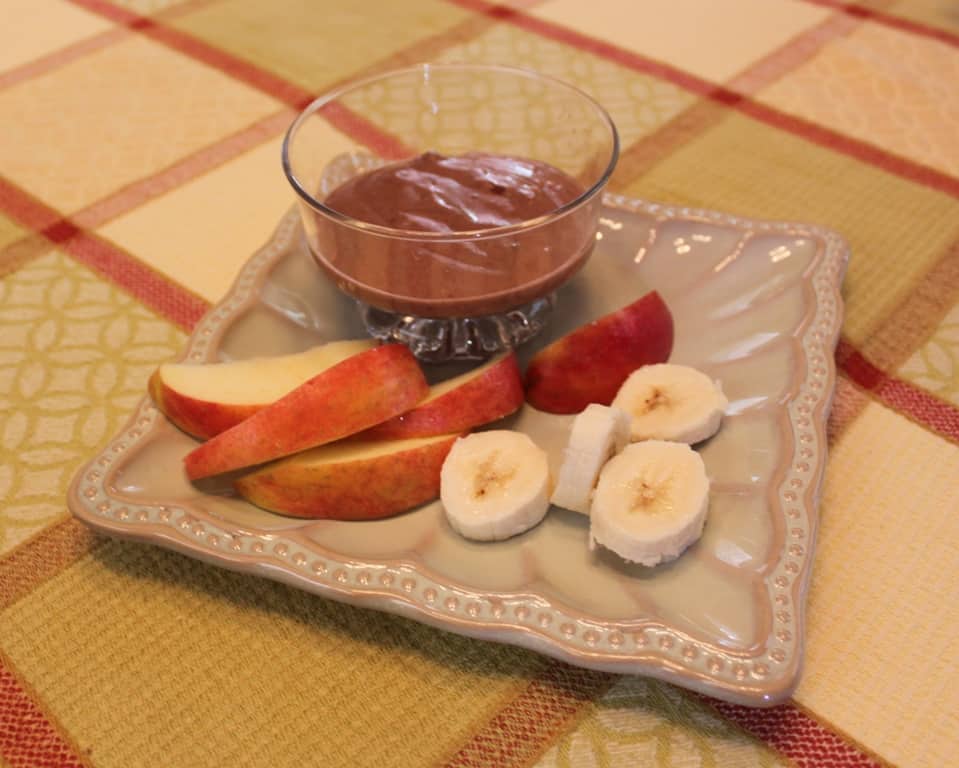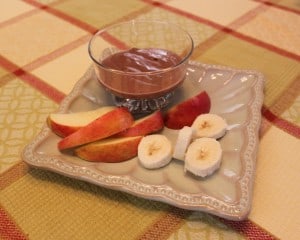 And just this week I made something that was new to us: the Creamy Chocolate Dippers. I made this as an after school snacks for my kids and a friend. While the friend enjoyed it a bit more than my own kids I found it to be quite delicious! Just a mixture of plain yogurt, cocoa powder and honey and it was a healthy dip to accompany our fruit. I think next time I might try Greek yogurt so it will lessen the tartness that I think my kids detected.
Creamy Chocolate Dippers
• 1 cup plain, non-fat yogurt
• 1 – 2 Tbsp. unsweetened cocoa, or to taste
• 1 Tbsp. honey or agave nectar, or to taste
• ¼ cup pineapple, outer skin removed, core removed, chunked
• 1 cup strawberries, washed, dried
• 1 apple, cored and sliced
Directions:
1. In mixing bowl, add cocoa, agave nectar/honey.
2. Mix thoroughly until desired cocoa flavor and sweetness.
3. Platter fruit around bowled chocolate yogurt.
4. Dip in creamy chocolate yogurt, enjoy!
Serves 2
Preparation Time: 15 minutes
Ingredients:
I have supported Produce for Kids since then and now I'm proud to say I'm a part of their Parents on Produce Board. Through that I'll be sharing more ideas of how to incorporate fruits and veggies into your diet and also contributing to PBS Kids Parents through their partnership with Produce for Kids.
This month, Produce for Kids, kicked off their fall campaign to "Eat Smart for a Great Start". They have partnered with over 1000 grocery stores to help parents make better meals for their families and help out some great causes too. Through their Ideal Meals recipes, available both online and in participating stores, parents can learn new ways to help their families eat healthier.
They had lots of new recipes available during their spring campaign https://www.mealplanningmagic.com/2011/05/produce-for-kids-yummy-ideas-for-your-family-and-others-100-giveaway.html
And now they've added a bunch of new recipes for the fall.
To learn more about their partnership with produce farmers pledge to donate money to PBS Kids and children's hosptials, you can read the full press release or visit view other campaign updates.
Disclosure: I have not received any compensation for this promotion and all the opinions expressed here are my own honest feelings about the items highlighted, however I am a Parents On Produce partner and happily support this organization on an ongoing basis.