This post may contain affiliate links. Please read my disclosure policy.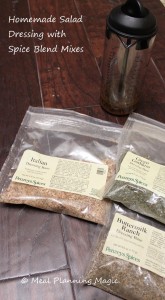 I had hoped to have a Quick Bread master mix recipe to share with you for this week's Real Food Friday , but my test cake didn't come out quite right so some more experimenting is in order.
Instead I'm sharing something that has been a great way for my family to stop using the bottled salad dressings and start making them at home. I love to shop at Penzey's (we have a store in Houston that I go to a couple of times a year but you can also order online). They have the most wonderful spices and even my kids love to go into the shop and take a smell of all the little sample jars they have.
I have used the Buttermilk Dressing mix for a couple of years now and I prefer to thin ours down with a bit more buttermilk to make it more of a drizzle. Yum! Not usual fans of the store bought Italian Vinaigrette dressing, I decided to give this one a try just for fun. It was so easy to blend up with just a little oil and vinegar and the spice blend…it has now become one of my family's favorites! And with the bold spice flavors (but not overwhelming), a little goes a long way.
What I like about these spice blends is that the ingredients are all clearly written and easy to pronounce. No artificial stuff! Plus I can customize the oil and vinegar or buttermilk additions to my family's taste.
So, if you're looking to get away from the store-bought bottled dressings for your salads, try a spice blend like these to help you get started. Sure, you can make them from scratch but these are SO easy and really quite inexpensive when you consider how much they make compared to the bottled variety.
Disclosure: I received no compensation from Penzey's nor do they have any sort of affiliate fan (although I'd be the first to sign up if they did–love them!) I am just a true fan and user of their products!