This post may contain affiliate links. Please read my disclosure policy.
Skip the store bought version and make your own Homemade Chicken Pot Pie with all-natural ingredients–the perfect comfort food and SO SIMPLE! My recipe makes two pies–one to enjoy now and one to freeze for later!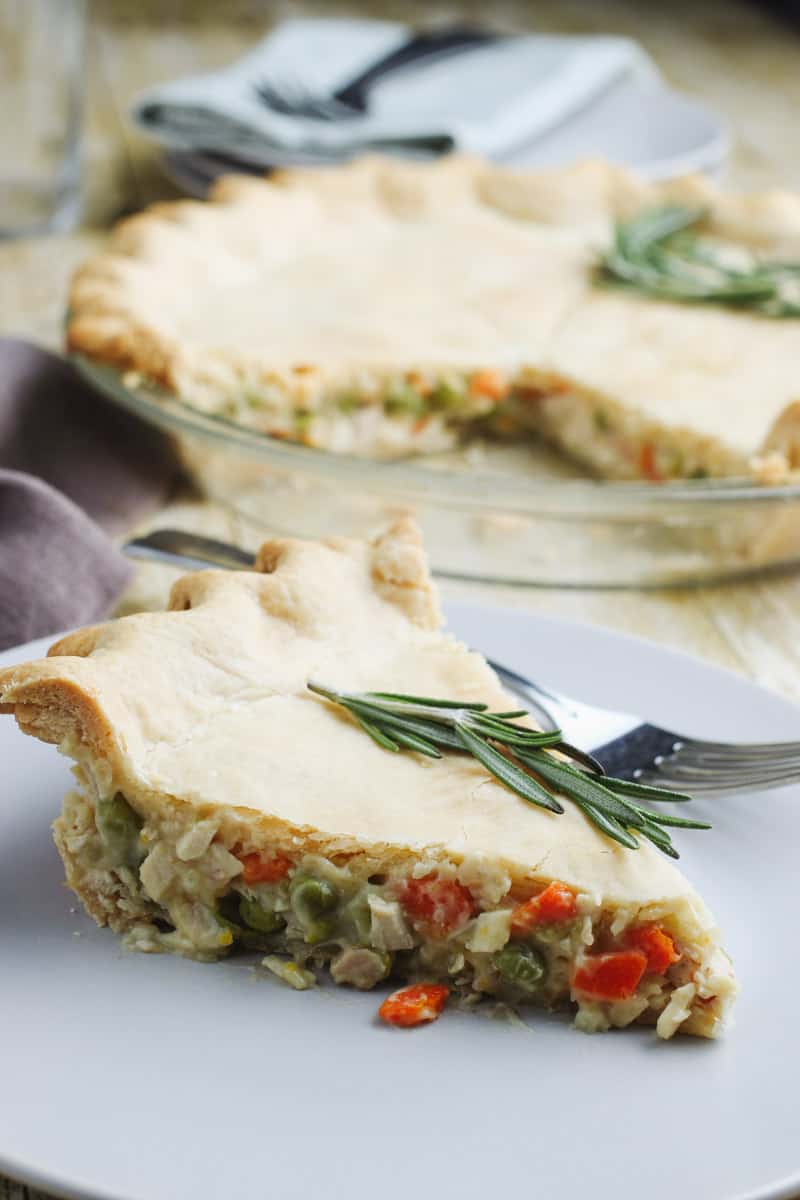 Jump to:
Why We Love This Recipe
When I was younger, I used to LOVE a frozen pot pie. You know, the kind that comes in a little red box in the frozen food section? Loved them.
But as I got older, I realized they were full of extra calories and fat! Yikes! And some preservatives I didn't really want either.
So, years ago I went searching for a frozen chicken pot pie recipe that I could make at home. I found this one in the 30 Day Gourmet Big Book of Freezer Cooking cookbook and I knew it would be a winner since everything I'd ever made from that book we always loved. You can read my review of the book by clicking here.
I tweaked the original recipe to make it my own and it has been a regular part of our menu rotation ever since.
Make Ahead and Freezer Friendly Recipe
The best part about this Homemade Chicken Pot Pie Recipe is that it is easily freezable! I have made it in a variety of different combinations.
When I made this for my freezer meal exchange group years ago, they raved about it. Just about everyone wanted a copy of the recipe because their families loved it too! It has since been my go to recipe for friends in need after having a baby, going through treatment for an illness or injury or loss of a family member.
I also like to have extra on hand in my own freezer for when we want a delicious comfort meal that is easy!
Made with All-Natural Ingredients + Tips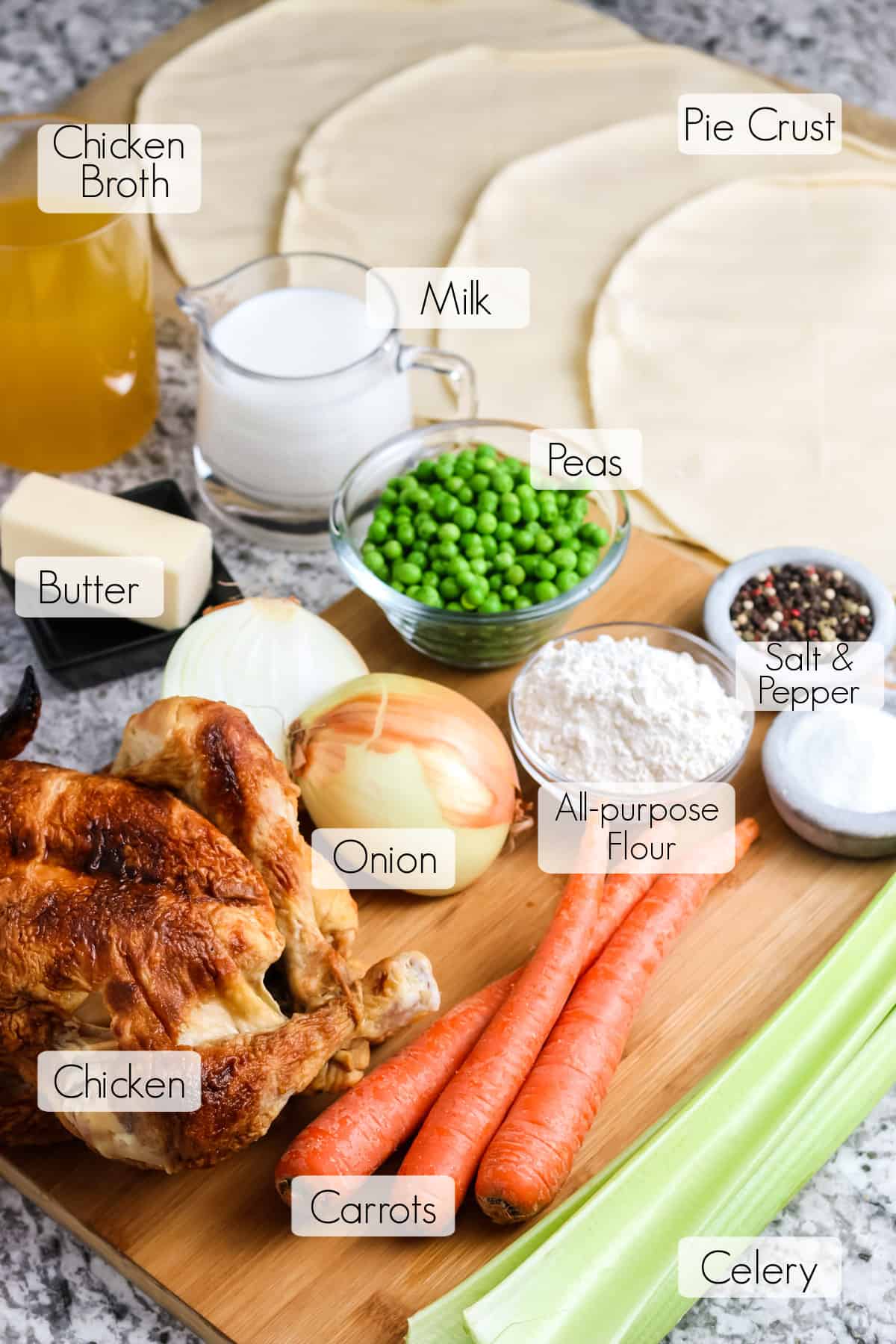 I love that this recipe uses all fresh ingredients too. With only 10 ingredients, it was a cinch to put together. This recipe makes enough for two pot pies and is totally worth it because it's great to be able to pull it out of the freezer and bake one up when we want some good comfort food any time.
Wow! I'm getting hungry just thinking about it—I need to make this again soon!
Since all of these ingredients can easily be found at the grocery store I only have a few tips to share–many of them you may already have on hand!
Carrots, Onions and Celery – I love to use my handheld food chopper (affiliate link) to quickly chop up the carrots, onions and celery. Sometimes I will use frozen chopped onions instead of fresh because I always have those on hand. You can find them in the frozen vegetable aisle of the store. They are great for adding to soups, chili and other recipes.
All-Purpose Flour – Using flour to coat the sauteed vegetables. This is an easy way to thicken the mixture quickly because the flour is evenly distributed before adding the liquid.
Milk – The original recipe called for canned evaporated milk but I found that substituting fresh milk worked just as well. And since we normally have fresh milk on hand, I decided to try that and it worked just fine. We normally buy skim milk and that's what I use most often. Lots of other types of milk will work just as well like 2% or even whole milk.
And while I haven't tried it myself, I know a lot of people have used almond milk in this chicken pot pie recipe with great success as well. I would even think an oat milk would work well too. I'm not sure about soy milk because to me, it sometimes has a stronger flavor than the others. If you give it a try, I'd love to know how it turns out!
Chicken Broth – I usually use the premade chicken broth that you can buy in a box. I prefer the Kirkland brand from Costco because it's a good price and lower in sodium. You can also use your own homemade chicken broth. Or substitute vegetable broth instead.
Frozen Peas – I buy the bags of store brand peas to save a little money!
Cooked Chicken – There are lots of options when it comes to the cooked chicken used in this recipe. I like to cook up a big batch of chicken and have it in my freezer to use in recipes like this one. It's also handy to have on hand for other recipes like Chicken Rice and Black Bean Tortilla Soup, Homemade Chicken Noodle Soup or Chicken Caesar Pasta Salad.
Depending on my mood and available time will determine how I batch cook the chicken. I will sometimes use my Instant Pot (affiliate link) or grill up lots of chicken breasts all at once. Check out this post for tips on how I make my grilled chicken and divide it up for recipes.
You can also use a rotisserie chicken that you've taken the meat from or even canned chicken (we like the Kirkland brand from Costco).
What Kind Of Pie Crust Should Be Used?
My homemade chicken pot pie recipe calls for a homemade or refrigerated pie crust because I find that they are easiest. Our preference is to have a top and bottom crust although I know some people just use a top crust.
You could also buy frozen pie crust but that is usually just a bottom crust. One of our local grocery stores carries a frozen "dough puck" which is basically a mound of pie crust in a little bag and available in the frozen section. To me they are like a happy medium between fresh and pre-formed frozen because all you do is thaw the dough, roll it out and place it in the pie pan.
Why Aren't There Potatoes in This Pot Pie Recipe?
You can see from the ratings and comments on this post over the years that it is a very popular and delicious recipe! Sometimes people will share their own variations and that often includes adding potatoes.
Since the original recipe never included potatoes, I left them out of my modified version. I think it's just a matter of preference. If you want to include diced potatoes, go for it! I'd probably add one to two cups. I would also suggest using frozen potatoes such as diced hash brown potatoes that can be found in the frozen section of the grocery store.
Potatoes can be kind of finicky when it comes to freezing them and it's best to use a parboiled (partially cooked) potato. Since the other vegetables in this chicken pot pie recipe are also sautéed, stirring in frozen potatoes just before filling the pie crust would work best.
How to Make This Pot Pie
Once you find out how easy it is to make your own homemade freezable chicken pot pie, you'll want to make it over and over again. Sometimes I will make a double batch so we have it ready to go when I need an easy weeknight meal. The delicious pot pie filling can be made in under 30 minutes!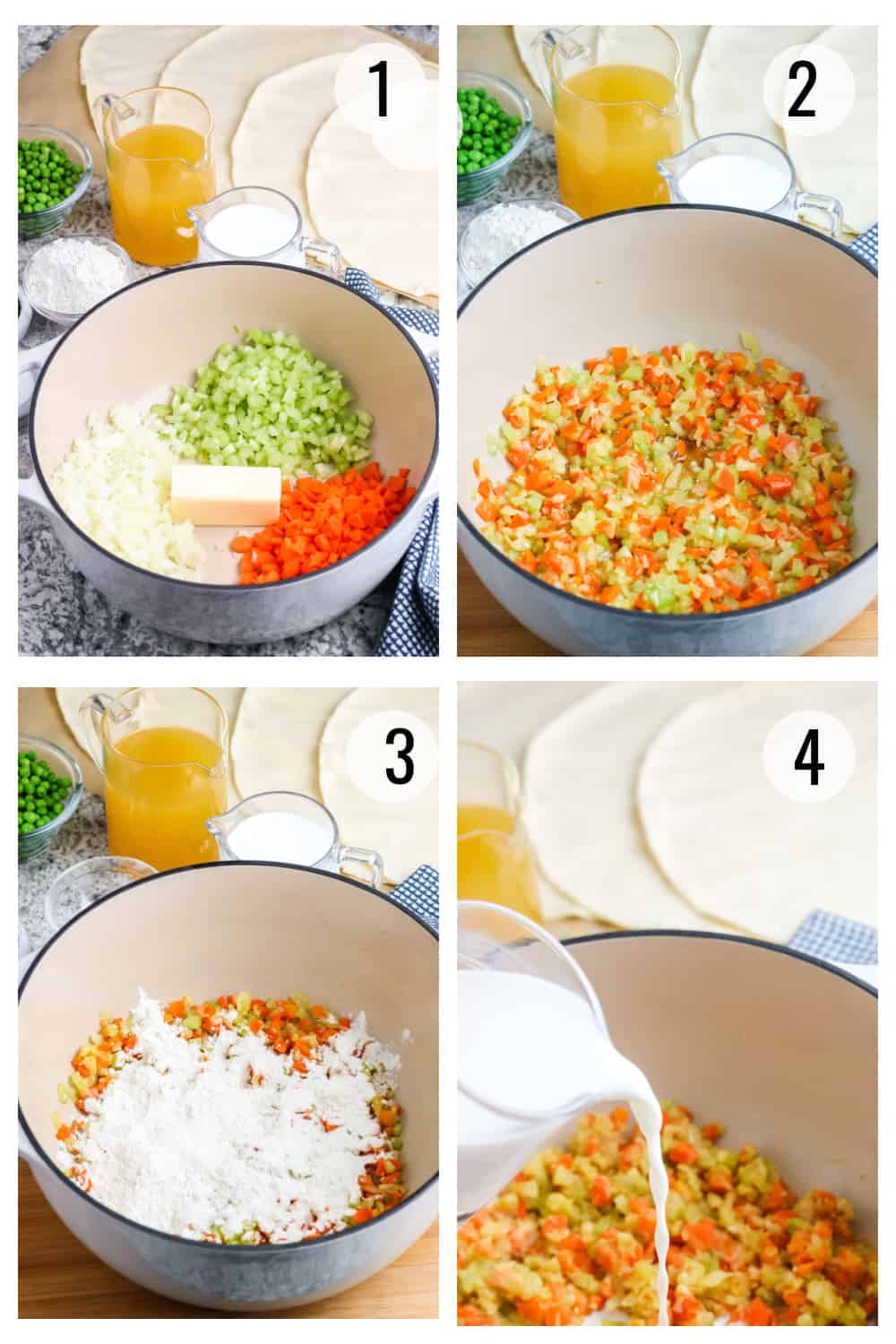 Start by melting the butter, carrots, celery and onions in a large saucepan (1). Cook until they are tender, about 5-7 minutes (2).
Sprinkle the flour over the sautéed vegetables (3). By sprinkling it evenly, it will coat the vegetables and make thickening the mixture easier. Gradually add the milk to the vegetable and flour mixture, stirring quickly (4).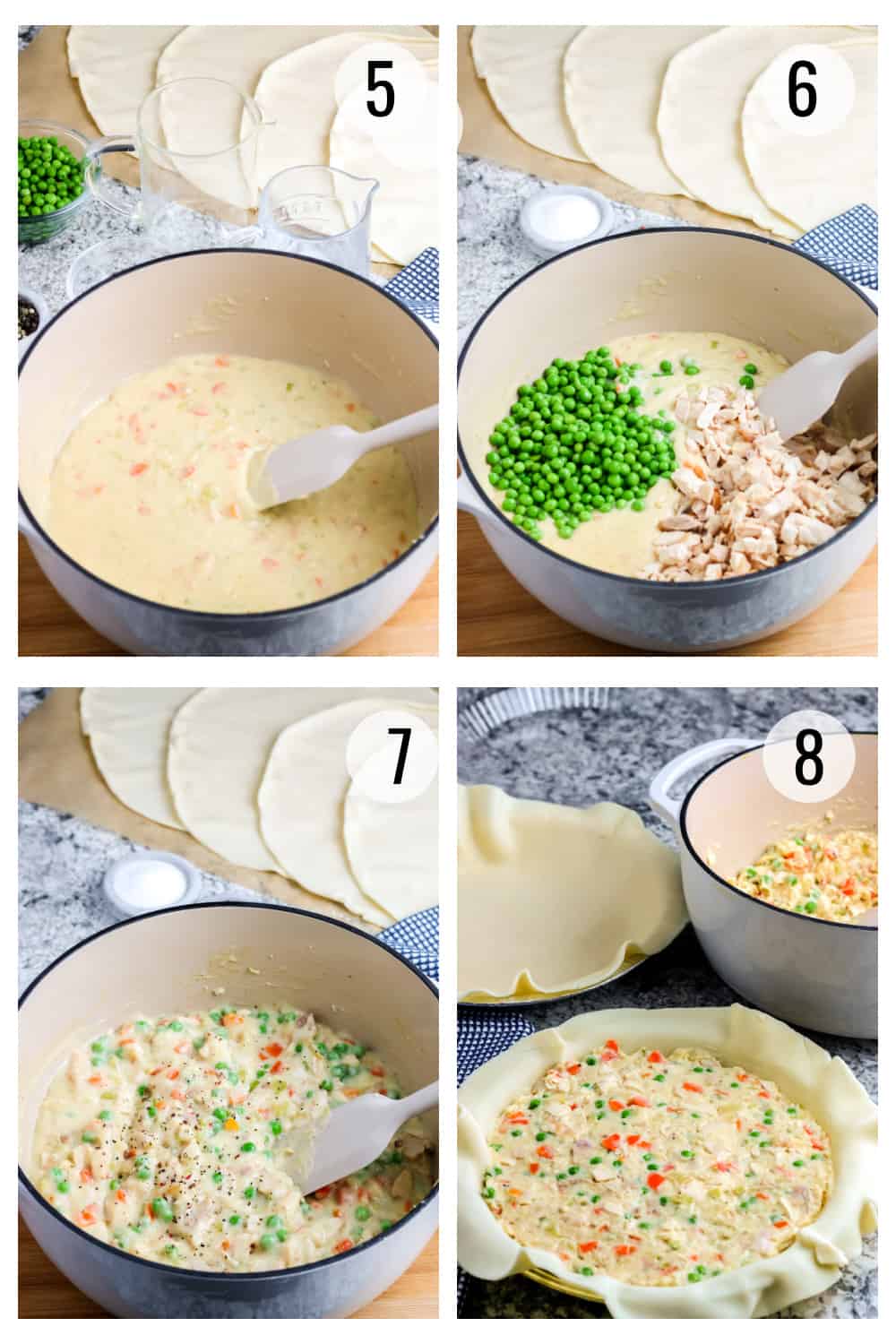 Simmer the mixture for 10-15 minutes until thickened (5). Remove from the heat and add the frozen peas and cooked chicken, stirring to combine (6).
At this point, you can divide and refrigerate or freeze the mixture (7). Or go ahead and fill the pot pies using the premade crust (8). Or do one of each!
Make Ahead Preparation Tips
This chicken pot pie recipe is so versatile and can be made ahead in a variety of ways!
First, making the chicken before prepping the recipe is a big time saver. I like to grill a big batch of chicken and chop or shred it to use in all kind of recipes, including this one. Batch cooking chicken is great and I've also baked, boiled or used my Instant Pot over the years to make it.
Next, the filling can be made and stored in an airtight container (affiliate link) in the refrigerator for up to two days until you are ready to prep the pies. You can also freeze just the filling itself (see below for tips on that).
The whole pie can be assembled, wrapped in foil or plastic wrap, and stored in the refrigerator for up to a day in advance. Keep in mind that sometimes this will make the crust a little soggier so you may need to bake it longer.
Is This Chicken Pot Pie Freezer Friendly?
Yes! That this homemade chicken pot pie recipe is freezer friendly is one of the best things about it! You can enjoy this classic comfort food anytime.
There are a few ways that you can prep it for freezing. Often, I will make double or even triple batches of the filling. I like to use my 2-cup Souper Cubes (affiliate link) to freeze the filling but any airtight container (affiliate link) will work. You can freeze the filling for up to six months, just don't forget to date and label (affiliate link) you container!
Freezing just the filling saves space in the freezer but also allows you to assemble the pot pies just before baking. The recipe card below has all the instructions on how to do that.
Another option is to assemble the whole pie, then wrap in foil or put in a zip top bag (be sure to squeeze out ALL the air). This is a great option if you bring meals to others or have the space in your own freezer to store it. Instructions on how to bake the pie from frozen are in the recipe card below.
No matter what you choose, I love the flexibility of this recipe and of course it's simplicity and great flavor. I hope you enjoy it too!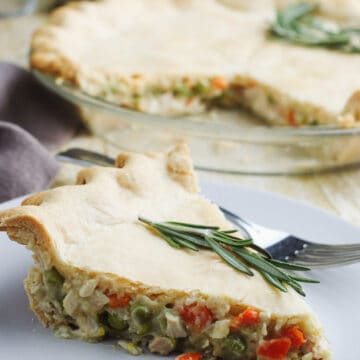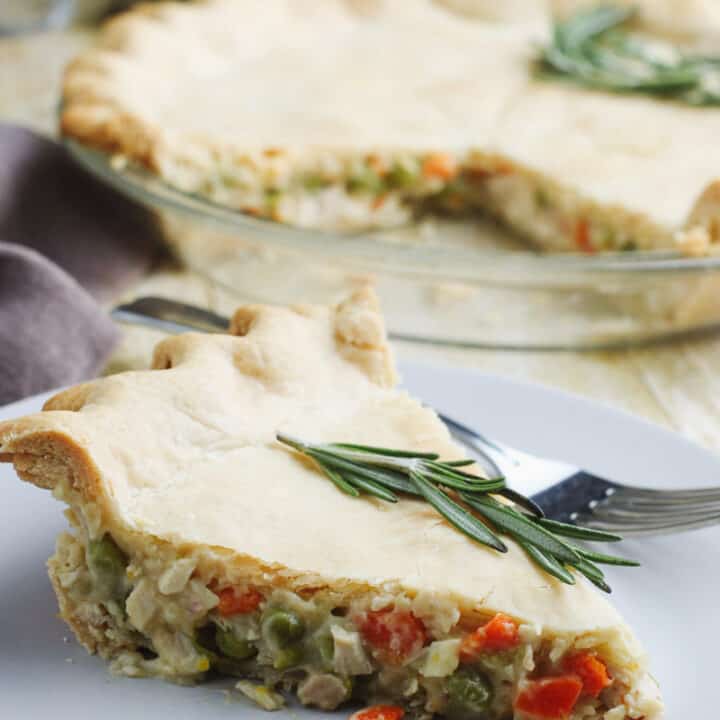 Homemade Chicken Pot Pie–Make Ahead and Freezable!
A healthier, homemade version of the classic comfort food, chicken pot pie. This recipe includes instructions for making and baking right away or making ahead and freezing and baking later. NOTE: This recipe makes 2 whole pies. Make one to enjoy now and freeze another for later!
Rate this Recipe
Print Recipe
Pin Recipe
Ingredients
1

cup

onion

chopped

1

cup

celery

chopped

1

cup

carrot

chopped

⅓

cup

butter

½

cup

all-purpose flour

2

cups

chicken broth

1

cup

1% milk

you may also substitute skim, 2% or whole milk but the nutrition facts will change

2

cups

chicken

cooked, chopped

1

cup

peas

thawed from frozen

1

tsp.

salt

½

tsp.

pepper

4

unbaked pie crusts

homemade or store-bought
Instructions
To Make Filling
Saute the first 3 ingredients in butter in a big skillet over medium heat until tender, 5-10 minutes.

Add flour; stir until smooth. Cook 1 minute, stirring constantly.

Add chicken broth and milk; cook, stirring constantly until thickened and bubbly, about 10-15 minutes.

Stir in chicken, peas, salt, and pepper.

Cool before pouring into pie crusts. VERY important! This allows it to thicken a bit more.

At this point you may freeze the filling in a labeled freezer safe container/bag. To prepare from frozen, read instructions below.

Freezes very well separately or fully prepared in the crust. Try them both and see which way you prefer! And see instructions below for both.
To Assemble Your Chicken Pot Pie
Start by preparing the crusts by rolling them out and place the bottom crusts in the pie plates and set aside the top crusts until ready to cover.

Pour filling mixture into bottom crusts and cover with top crusts.

Fold edges under and crimp.

Poke slits in the top (you can make a nice pattern here too!)
Cook Now or Freeze For Later?
How To Freeze Your Chicken Pot Pie
Cover with foil, label and freeze. See below for preparation instructions
To Bake Fresh Pot Pie Now
Bake assembled pie uncovered, for 30-45 minutes or until crust is golden brown. Let stand 10 minutes before serving.
To Bake Pot Pie From Frozen
If Assembling Pie With Filling….
Thaw filling in refrigerator. You might need to stir or mush the filling together to combine well and reincorporate. Assemble as described above (To Assemble Your Pot Pie) and bake accordingly. OR you may bake the whole pie from frozen.
If Baking a Whole (Assembled), Frozen Pot Pie
Bake, uncovered, for 30 minutes, then cover with foil and bake 30 more minutes.

Remove from oven and let rest for 10 minutes before cutting.
Notes
NOTE: This recipe makes TWO pot pies. So that means there are 16 servings total and that's how the nutrition facts have been calculated (based on 1 slice).
Nutrition
Serving:
1
piece
|
Calories:
281
kcal
|
Carbohydrates:
28
g
|
Protein:
6
g
|
Fat:
16
g
|
Saturated Fat:
6
g
|
Cholesterol:
16
mg
|
Sodium:
424
mg
|
Potassium:
183
mg
|
Fiber:
2
g
|
Sugar:
2
g
|
Vitamin A:
1591
IU
|
Vitamin C:
7
mg
|
Calcium:
41
mg
|
Iron:
2
mg
This recipe was originally posted in 2012 and updated in September 2021 with updated photos, content and video.
Be sure to check out my Amazon Shop to discover the many items I use in my own kitchen. Meal Planning Magic is a participant in the Amazon Services LLC Associates Program, an affiliate advertising program designed to provide a means for sites to earn advertising fees by advertising and linking to Amazon.com. Ordering products mentioned here are at no extra cost to you. Thank you for your support.