This post may contain affiliate links. Please read my disclosure policy.
My favorite recipes for Fall include delicious treats made with pumpkin, apples, and lots of warm Fall spices!
Thank you to Produce for Kids for providing me with compensation to purchase the ingredients for the recipes featured here.
If you've been following my blog for a while, it may come as no surprise that I love all things pumpkin. I've made pumpkin waffles, pumpkin dip and most recently, pumpkin hot cocoa. I even have a Pinterest board called Pumpkin-palooza.
So when this list of Favorite Recipes for Fall from Produce for Kids came to my inbox, I was eager to give a few of them a try!
Let me tell you, these Fall recipes are not only simple to prepare but are full of healthy fruit and veggie flavor. I made the Apple Pumpkin Muffins over the weekend so that I could have some in the freezer for our busy school morning breakfasts. They were a hit!  Although my kids said they much prefer them slightly warmed vs. room temperature (I agree!)
My son especially loves smoothies after school. I decided to whip up the Fruity Pumpkin Pie Smoothie, serving a muffin alongside for an easy snack. This unique blend of flavors (which includes pomegranate juice and mango), has a tangy sweet taste to it. My son, not knowing exactly what was in it declared "It's got all the flavors of a pumpkin pie, Mom!" I love that it is packed with fruits and vegetables, too.
I think next time I might use frozen mangoes that I can buy at Costco, just to make that part a little simpler. My mango preparation skills need some practice, but it's not a game changer. I also think these would make great smoothie pops, so next time I might save a little to give that a try. My daughter is especially fond of the smoothie pops. The only other suggestions I'll make is that this tastes much better to me when it's really cold so you can put it in the refrigerator for a little bit before serving. It is a THICK smoothie so add more juice to taste if you like.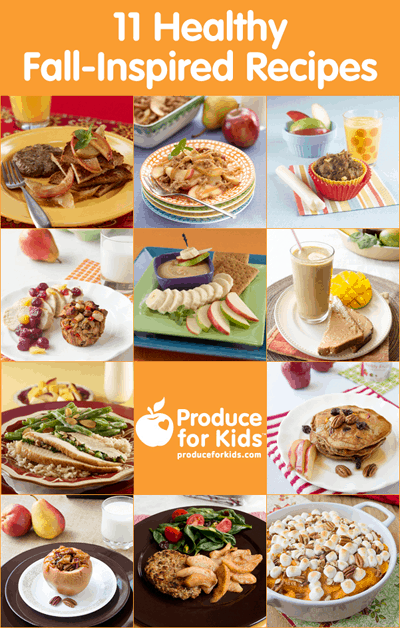 Did you know Produce for Kids has 11 Healthy Fall-Inspired recipes on their website? Breakfast, lunch, dinner or snacks—they've got you covered. Next on my list is to give the Pork Chops and Cinnamon Apples a try! I hope you'll check some of these recipes  out and give them a try yourself.
What are you favorite recipes for Fall?
Be sure to check out my Pinterest board for more recipe inspiration and the Produce For Kids Pinterest board for healthy recipe ideas, too!

Want more holiday recipe ideas? Be sure to catch the Twitter Party on Thursday, November 21st at 9 p.m. EST  For more details and to register, CLICK HERE or follow the hashtag #FestiveFlavors.
As you may know, I am a proud Parents on Produce board member for Produce for Kids. I did receive compensation for this post, however my onions are my own.