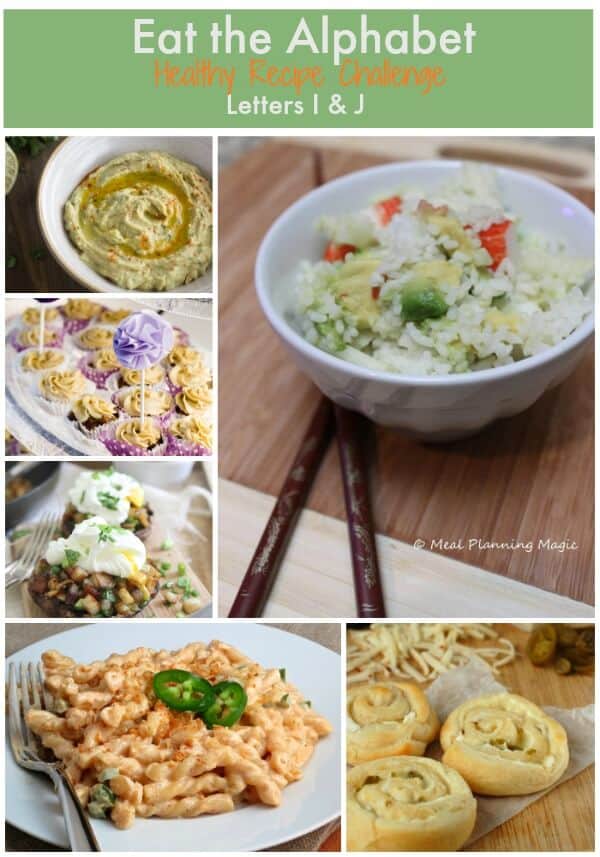 It's the 15th of the month and that means it's time for another Eating A to Z Healthy Recipe Challenge. This month, I'm bringing you another round up of recipes from bloggers all over the web. The letters I and J are tricky! Lots of recipe including jalapenos but also a few with different ingredients like jicama or jujubes (Korean dates). And with jalapenos in season for many gardeners right now, you'll be sure to find lots of inspiration to use some of them up. Enjoy!
Jicama Avocado Crab and Rice Salad – Meal Planning Magic
Fresh Jalapeno Salmon Burgers – Meal Planning Magic
Baked Jalapeno Poppers – The View From Great Island
Yaksik Cupcakes (featuring Jujubes) – Cupcake Project
Jalapeno Lime Hummus – Food Faith Fitness
Jalapeno Popper Pinwheels – Wine and Glue
Buffalo Chicken Jalapeno Popper Pizza – Flavor Mosaic
Jalapeno Lime Cucumber Salad – The Creekside Cook
Roasted Jalapeno Dip – Overtime Cook
Baked Jalapeno Poppers – The Kitchen Is My Playground
Mayan Citrus Salad With Jicama – The Other Side of the Tortilla
Corn and Jalapeno Rolls – Karen's Kitchen Stories
Jalapeno Lime Cooler – The Tomato Tart
Herbed Jicama Salad – Everyday Maven
Garlic Cheddar Stuffed Jalapeno Peppers with Chocolate Breadcrumbs – This American Bite
Super Green Juice (including Jicama) – Nosh and Nourish
Pineapple Jalapeno Popsicles – The View from Great Island
Jalapeno Hummus – Alida's Kitchen
Jalapeno Popper Burger – Food Faith Fitness
Jalapeno Popper Pasta Salad – Flavor Mosaic
Roasted Tomato and Pepper Soup – Karen's Kitchen Stories
If you have a recipe that features a FRUIT or VEGETABLE that start with the letters I or J, feel free to link up below to share your recipe.
Don't forget to check out the Eat A to Z Pinterest board. There you can keep track of all the recipes that are added month-to-month but also find new recipes from last year too. What's your favorite fruit, vegetable, grain or legume that starts with the letter I or J?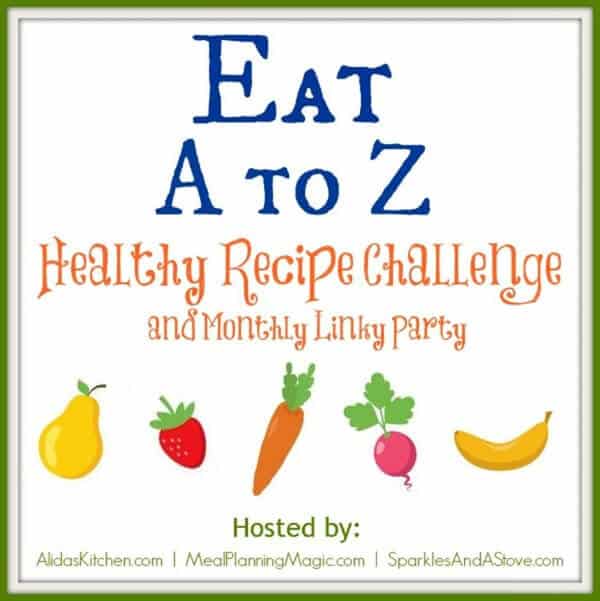 Be sure to check out all the other blogs shown in the link up below to discover new recipes and ideas! If you're a blogger and have a recipe to link up, I can't wait to see what you share! 
Don't want to miss any more recipe ideas? Be sure to SIGN UP HERE to receive updates via email or RSS feed (you can choose the reader you prefer!) And don't forget you can always follow me on Facebook, Twitter, Pinterest or Instagram. They all offer a little something different and are a great way to stay in the loop on new menu plans, recipe ideas, giveaways, organizing tips and more!