This post may contain affiliate links. Please read my disclosure policy.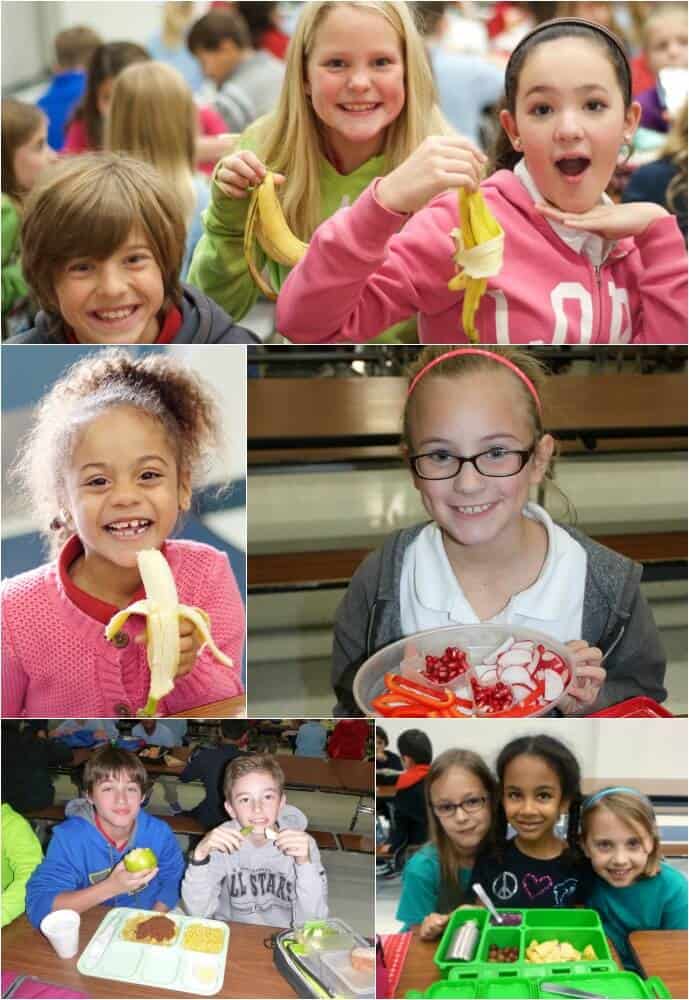 Today I want to tell you about a super fun program for schools that will get kids trying and learning to like new fruits and vegetables through the Eat the Rainbow Challenge™!
As our PTO's Healthy Lifestyle chairperson, I coordinated this program for my son's elementary school last year and it was a huge success! HUGE I tell you! Just a couple of days in, the kids were so excited to see our parent volunteers in the lunchroom and couldn't wait to show off the different color fruits and vegetables they had brought from home or how much they had eaten from the tray lunches they bought that day.
GETTING ORGANIZED
I first met with our school principal who's primary concern was allergies so we decided it would be best to stick to the standard lunch menus rather than bring in other foods for the kids to try—at least for this first year. I contacted our school district's food service director to ask him about any restrictions we should be aware of and also met with our school's cafeteria manager to get her on board. We coordinated our challenge with the school lunch menus and knew that certain days would have at least one of the colors we were highlighting so that every student had the opportunity to participate. For example, carrots or oranges on Mondays, red apples or bell peppers on Tuesday, etc.
Letters went home a week or so before the challenge started to let parents know what would be going on and we also shared about it in our parent email and on our PTO's Facebook page.
Our school also has a live morning news run by the kids each day so I contacted the teacher in charge to have the students announce the program and also a fun fruit or vegetable fact for the day (they did the research and came up with these themselves—how fun is that?!)
Our volunteer coordinator put out a call for volunteers and our schedule filled up relatively quickly. Our school's cafeteria has 18 tables total (two put together so nine long tables total) so we had one volunteer for every two tables for 1 ½ hour overlapping shifts—I think we ended up with about 4-5 volunteers each day (and some of us, like me, volunteered a couple of days—it was way too fun!)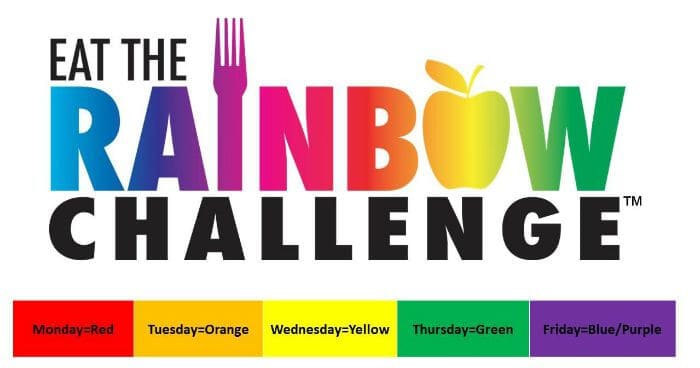 HOW DOES IT WORK?
We set up a challenge between the classrooms that the class who got the most points would earn an extra recess. The kids LOVE this kind of incentive. (Next time I would ask the principal if we could have a winner for each grade level.)
When the kids are done eating their fruits and veggies, they raise their hand. Using copies of the tally sheets, each volunteer would check off each time a student ate a serving of that day's color. We designated ahead of time what counted as a serving (not just a bite or a taste but at least half of what was served). The volunteers then gave the student a ticket that had a fun fruit or veggie fact for that color. Our students were calling them bookmarks and were so happy when they earned one!
WINNERS & REWARDS!
Deciding on what the reward is for your school is up to your PTO/PTA and principal. Some examples of low cost parties are a fitness party in the gym, a smoothie party or extra recess (which is what we did!) Some retail stores may be able to donate coupons for free smoothies for the winning class or you can approach a fitness instructor to donate a fitness party for the winning classes. Kids are always excited about a few extra minutes of recess and it encourages outdoor play which ties in with the message of eating healthy and staying fit! Of course, ice cream and popsicle parties are NOT a good example of prizes as they would send mixed messages to kids.
WHY DOES EAT THE RAINBOW CHALLENGE™ WORK?
Eat the Rainbow Challenge™ works because it highlights colors rather than a specific food. The program is different; it speaks to the kids in their language! Tickets, points and colors! What's not to like? Watching each other eating fruits and veggies popularizes the idea; it creates a shift in the environment and the kids' behavior reflects it! It points them in a healthier eating direction in a fun and exciting way!
BRING THE PROGRAM TO YOUR SCHOOL-FOR FREE!
Because I work with Produce for Kids, some of their produce partners helped bring this program to our school but it's easy for anyone to implement. The best part is that if you have a few willing volunteers, you can bring this program to your children's school because the creator is now offering it for FREE starting this school year! You will receive a how-to guide for organizers, the parent letter, tally sheets and ticket samples for you to print and use at your own school. She believes in helping kids learn to love new fruits and vegetables that she wants to make it available to all schools, no matter what their budgets are. You can get more info by visiting the Eat the Rainbow Challenge™ website.
I'd love to hear how it goes if you decide to lead this at your child's school!