This post may contain affiliate links. Please read my disclosure policy.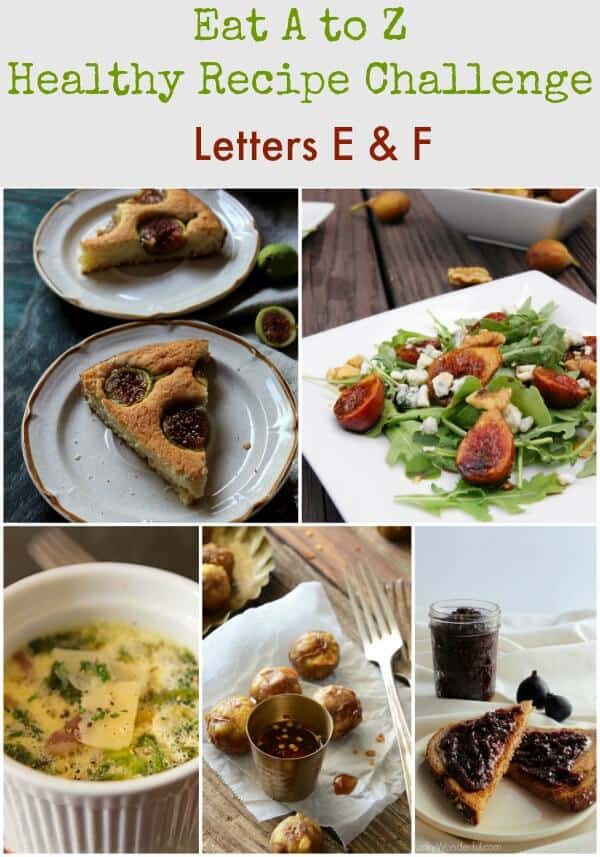 It's time for another Eating A to Z Healthy Recipe Challenge! Each month I and other bloggers showcase recipes featuring fruits, vegetables, grains or legumes that start with a different letter of the alphabet. It's a link up party that I host along with Kathy from Penney Lane Kitchen (formerly Sparkles and a Stove ) and Alida from Alida's Kitchen. This month's letters are E and F. Yesterday, in my Weekly Menu Plan post, I told you that things have been super busy around here so this month I didn't get a chance to make, photograph and blog a new recipe. Instead, I'm leaning on some other bloggers who have shared their recipes. Wow! I sure was getting hungry collecting all these posts. And I'm pretty sure I need to plant a fig tree so I can try out all these yummy sounding fig recipes!
Let's get to it! Here's the list-
Edamame and Great Northern White Bean Dip – Meal Planning Magic
Prosciutto and Fig Goat Chees Pizza – Nosh and Nourish
Eggplant Parmigiana Pasta Casserole – Cupcakes and Kale Chips
Bacon and Escarole Custard – The Tomato Tart
Turkish Stuffed Eggplant – The View From Great Island
Balsamic Marinated Eggplant Crostini with Cilantro Lime Tahini – The American Bite
Double Fudge And Fig Truffles – Spabettie
Indian Spiced Eggplant Yogurt Dip – Farm Fresh Feasts
Eggplant Rolls with Goat Cheese – Foodologie
Grain Free Thai Eggplant Tempura with Spicy Garlic-Soy Dipping Sauce – An Edible Mosaic
Balsamic Fig Jam – Wonky Wonderful
Eggplant Ricotta Grilled Cheese – The Law Student's Wife
Fennel and Mandarin Salad with Champagne Citrus Vinaigrette – The Tomato Tart
Fig Upside Down Cake – Wonky Wonderful
Eggplant and Tomato Pasta – I Heart Eating
Tempeh Edamame Salad Rolls with Ginger Sesame Peanut Sauce – Spabettie
Super Simple Fresh Fig And Pistachio Salad with Pomegranate Dressing – An Edible Mosaic
Fig and Lemon Cake – Diethood
Marinated Fig and Arugula Salad with blue Cheese & Walnuts – The Kitchen Is My Playground
Baked Eggplant Chip Pesto Pizza – Farm Fresh Feasts
Fennel, Red Cabbage, Goat Cheese, & Tangelo Salad with Tarragon, Mint, Yogurt, & Lemon Dressing – Karen's Kitchen Stories
Don't forget to check out the Eat A to Z Pinterest board. There you can keep track of all the recipes that are added month-to-month but also find new recipes from last year too. What's your favorite fruit, vegetable, grain or legume that starts with the letter E or F?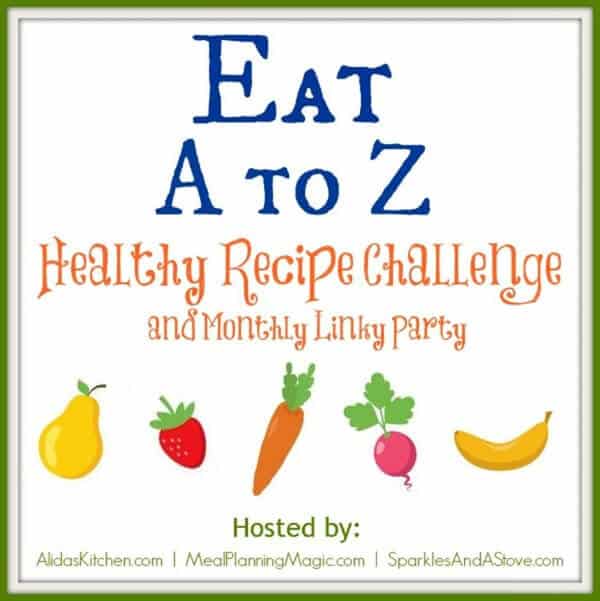 Be sure to check out all the other blogs shown in the link up below to discover new recipes and ideas! If you're a blogger and have a recipe to link up, I can't wait to see what you share!
Don't want to miss any more recipe ideas? Be sure to SIGN UP HERE to receive updates via email or RSS feed (you can choose the reader you prefer!) And don't forget you can always follow me on Facebook, Twitter, Pinterest or Instagram. They all offer a little something different and are a great way to stay in the loop on new menu plans, recipe ideas, giveaways, organizing tips and more!