This post may contain affiliate links. Please read my disclosure policy.
Taco dip mix is a quick and easy mason jar food gift idea for the holidays. This DIY food gift has all of the dry ingredients needed to create delicious, homemade taco dip, right inside of a festive, decorated mason jar! Includes a printed recipe card for the gift recipient, too.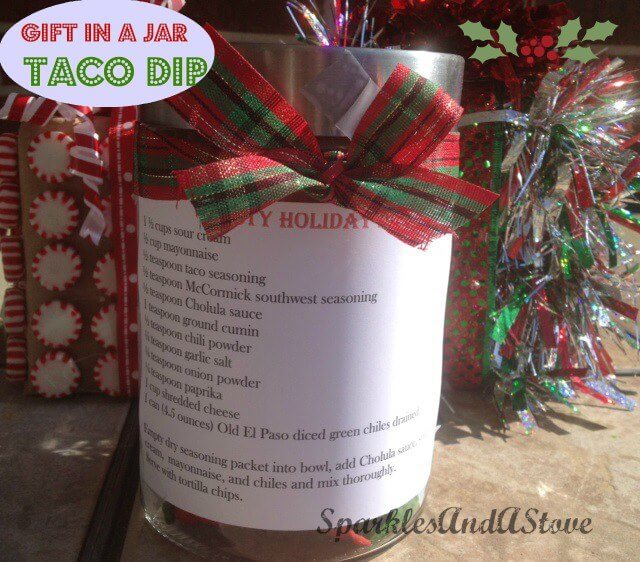 I'm excited today to bring you a guest post from Kathy Penney over at Sparkles And A Stove. Kathy is a real-life blogging friend that I met through our Houston Bloggers group. I love her blog…she's always trying out all sorts of crafty projects and tasty looking recipes and showing us that they really CAN be done. Today she is sharing a great gift idea for the holidays for a Taco Dip in a Jar. Simple and tasty.–what more can you ask for? Be sure to check out her blog at Sparkles And a Stove, or follow her on Facebook, Twitter or Pinterest (or all of them!)
Thank you to my fellow foodie and blogger friend MealPlanMom for inviting me to guest post and share this easy holiday food gift idea with you!
The holidays are here and it's a great time to for sharing food as gifts. One of the easiest and most frugal gifts to give is gifts in a jar. Gifts in a jar don't have to just be jams and jellies! There are lots of ways to think outside of the box when gifting this year. This easy taco dip is a colorful, fun, and tasty way to share a unique gift in a jar. All the canned and dry ingredients and chips are festively packaged with the recipe and instructions for making the dip!
I am including instructions on how to assemble the taco dip mix gift, but also have shown how to make the final product so that you will know what you're giving.
To assemble the gifts you will not need any of the wet ingredients such as sour cream and cheese shown in the photo below.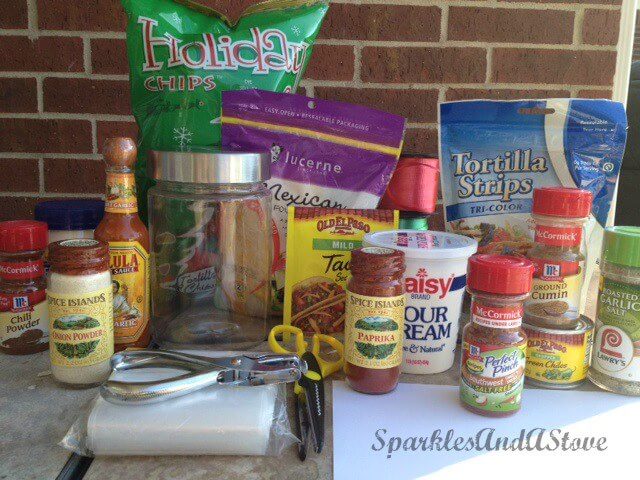 To make this taco dip mix gift you will need:
A large jar (I was able to purchase mine from Hobby Lobby for a few dollars.)
Avery 8387 Post Cards
Ribbon in pattern of your choice to tie the gift
Tape
Chips of your choice to fill the jar
Can of Old El Paso Diced Green Chiles
Small Baggies for Dip Dry Ingredients (I got mine in the beading section of Hobby Lobby and it seals at the top like a Ziploc baggie but is much smaller. There are also small bags available in the baking section for treats.)
Dry Ingredients for Taco Dip:
Paprika
Onion Powder
Garlic Salt
Taco Seasoning
Southwest Seasoning
Chili Powder
Cumin
To Assemble The Gift:
Put all of the dry ingredients into a bowl and then empty the mix into the small baggie. (Or if you like you can put the ingredients directly into the baggie.)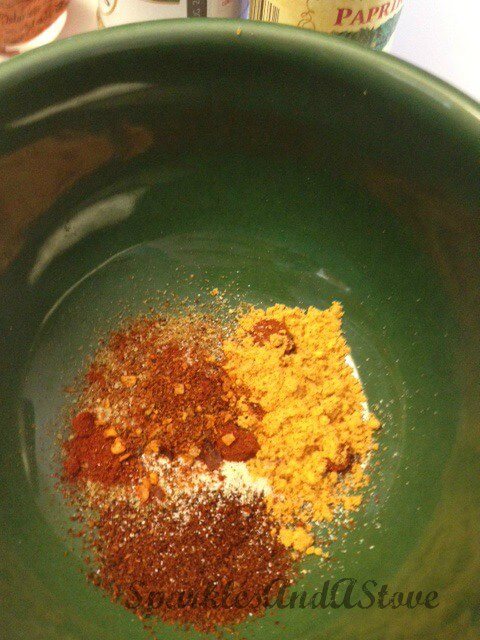 Next place the small can of chiles into the bottom of the jar. Begin filling the chips in around the can. I purchased tortilla chips in red and green to add extra color to the gift. Don't force too many of the chips into the jar or they will break and not be good to use for dipping. Also leave just a bit of room at the top of the jar for the seasoning packet.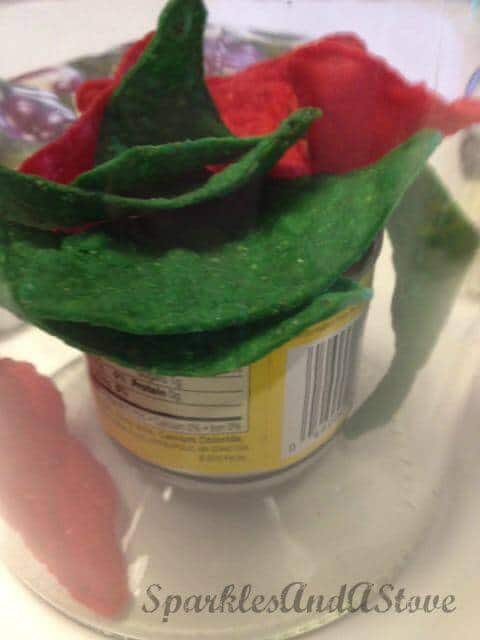 Once you've placed the chips in the jar, fold up the baggie with the dry ingredients and add the packet to the top of the jar and replace the lid.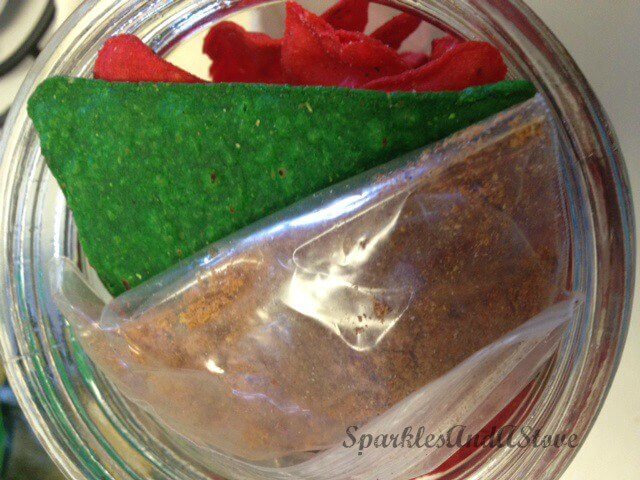 Finish off the gift by tying the jar with a fun or festive ribbon. I chose a tartan plaid because it was gender neutral. Add the recipe and instruction card to the jar. I taped it to the front of the jar but you can also use glue dots so that the tape doesn't show or line it inside the jar if you don't want the card to show.

For easy gift giving, here is a free printable with the recipe and instructions to make the taco dip.
It's a PDF file and fits template Avery 8387. It makes 4 cards. This is a very frugal gift because the spices are something most people have on hand as well as the holiday ribbon. The jars are very affordable especially if you catch them on sale or have a coupon and the chiles are less than a dollar per can and one bag of chips will make 4 gifts. If you want to be even more frugal, you can skip the jar and use the holiday Ziploc tubs in reds and greens that come out for the season and add the card and bow to it instead.
You can Print the FREE instructions here.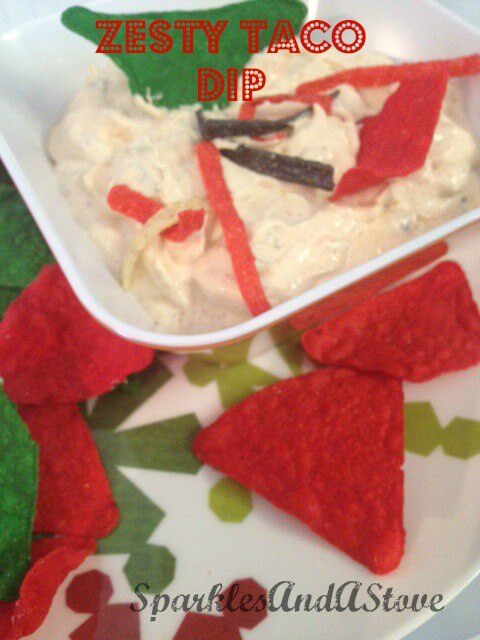 And just so you know what the taco dip will look like, here is the final product, with the chips from the jar. It is so easy to prepare! Just add the dry taco seasoning ingredients with the mayo, cheese, sour cream and hot sauce, and stir.
The taco mix is creamy and zesty, and one of those things I kept coming back to….just to taste test of course. 🙂
Thanks again to MealPlanMom for letting me share the gift in a jar and to you for reading! I hope that you're able to use this easy gift as it makes great teacher or friend gifts or maybe it at least gave you some gift ideas. I'd love for you to stop by Sparkles And A Stove and check out some of the recipes and crafts there. I love connecting with new people!
Kathy Penney from Sparkles And A Stove is a proud stay-at-home-mom to two little stairsteppers and a former bean counter turned crafter and chef. She is a lover of life and laughter and a perpetual Pollyanna and concert junkie. She enjoys cooking easy comfort food and doing fun and simple DIY crafts! She passes on tips and can do attitude through her blog, Sparkles And A Stove.