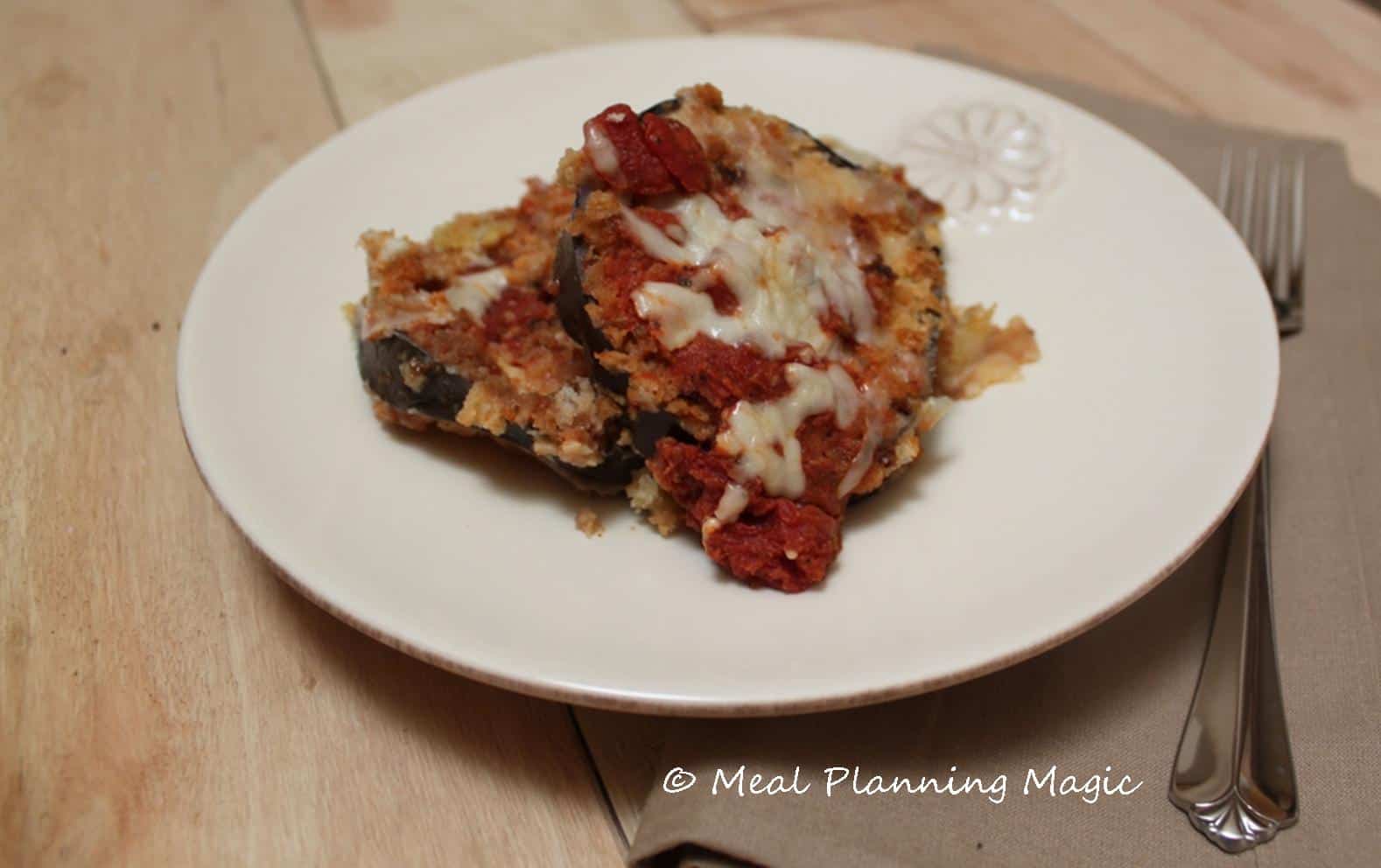 Here we are at the third installment of the Eating the Alphabet series! It's the blog hop where I and other bloggers share our creations using fruits, vegetables or grains/beans starting with a different letter of the alphabet. Each month we'll be sharing recipes that highlight fruits and vegetables that start with different letters of the alphabet. This month it is E or F.


The first month I chose Brussels Sprouts and last month I chose Cauliflower. This month I went out on a limb again and chose Eggplant. Actually, my daughter suggested it when we were in the store one day but she later said she didn't think I would REALL make it! Silly girl, doesn't she know me better by now? I probably would have chosen figs but like to eat those when they are fresh in the summertime. So, since it's still only April I deferred to eggplant.
Full of antioxidants and important phytonutrients and fiber, it is a great vegetable (although actually a fruit) to add to any diet. Sliced thick and sautéed, it is really filling with out being too heavy.
I've never actually cooked eggplant. I've had it in restaurants but frankly, it seemed intimidating. So I went with a safe recipe of Eggplant Parmesan. I found several recipes online and developed my own.
Here's my recipe:
EGGPLANT PARMESAN
2 8 oz. eggplants
2 T coarse salt
2 eggs
2 T water
¾ cup flour
1 ½ T Italian seasoning blend
¾ cup grated parmesan cheese
2 C plain Panko style breadcrumbs
1-2 T olive oil
2 ½ C prepared spaghetti sauce (or use 28 oz. canned petite diced tomatoes with about 1 T Italian spice blend and cook for about 30 minutes)
1 C shredded mozzarella cheese

INSTRUCTIONS

Preheat oven to 350 degrees F.

Slice eggplant into about ½" slices.

Salt slices on both sides and put into colander to drain about 30 minutes.

Meanwhile, mix flour and Italian seasoning together in shallow dish. In a separate dish, whisk eggs and water together.

In last dish, combine Panko breadcrumbs and parmesan cheese.

After about 30 minutes, take eggplant slices and pat dry using a towel (or paper towels).

Dredge slices first in flour mixture, then egg mixture and finally breadcrumb mixture.

Saute breaded eggplant in olive oil over medium heat until crispy and golden on both sides about 3-4 minutes.

Transfer to greased 9×13 baking dish. Layer eggplant and top with half spaghetti sauce and half shredded mozzarella cheese. Repeat layers ending with cheese.

Bake uncovered in oven for about 30 minutes, until cheese is melted and eggplant is cooked. Enjoy!
We had mixed results. My husband and I really enjoyed it, the kids, not so much. I will say I don't think I baked it quite long enough because the skin on some of the slices was a bit tough. But still ok! I must say I really enjoyed the leftovers though!
So, what's your family's favorite fruit or vegetable that starts with the letter E or F? Share in the comments below.
And if you're a blogger and want to join us in the coming months for the Eating the Alphabet series link up, click here for details and to complete the form to sign up. And be sure to check out all these other fabulous blogger's interpretations of the letter E or F fruit, veggie or grain-style this month with the links below. I know I'm planning to try a few!