This post may contain affiliate links. Please read my disclosure policy.
Beet chips are a delicious healthy snack or side dish replacement for fried potato chips. There are just 3 ingredients needed to make this easy beet chips recipe!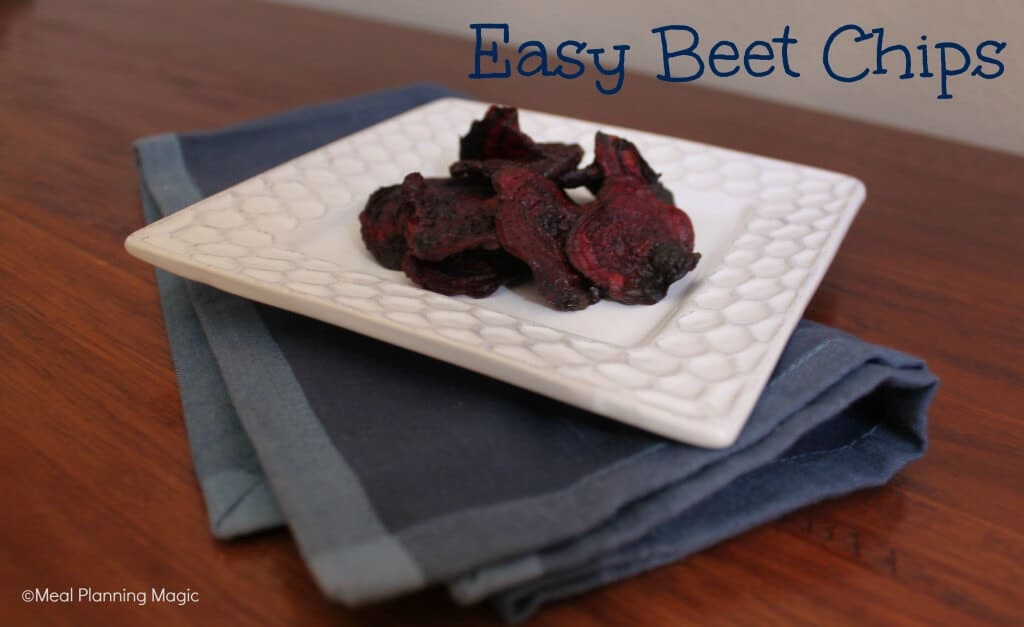 Welcome to the first month of the Eating the Alphabet Healthy Recipe Challenge for 2013! This blog hop will feature fruits, vegetables, grains or legumes to help us discover delicious new ways to enjoy these healthy foods. And hopefully make some of them a lot less intimidating! Each month we'll choose from a couple of different letters (this month it is A or B) so we can explore a variety of options. For all the details check out my post from last month (or if you are a blogger and want to join in, there is a sign-up form to complete). https://www.mealplanningmagic.com/2013/01/eating-the-alphabet-healthy-recipe-challenge-new-for-2013.html
This month, I chose beets! I'll admit I haven't tried many dishes with beets, unless you count the occasional pickled beets on a salad bar. But did you know that beets are a great choice for cardiovascular health? They are a rich source of betatine, which helps lessen your body's concentration of homocysteine, which can be harmful to your blood vessels. Beets also reduce high blood pressure. And they are also a great source of vitamin C.
There is a local restaurant that my husband and I like to go to called Guru Burgers & Crepes. I love that they use a lot of organic and locally sourced ingredients. But their food is also super delicious! It was there that we first tried beet chips. They come as an option for a side dish. We could not stop munching on these! They are slightly sweet and salty. And I love that they are all natural and healthier for us too.
I've wanted to try and make them at home, and I've made kale chips before, so why not beet chips?
This beet chips recipe is SO easy!
And they taste almost like the ones we got at the restaurant (not quite as crispy, but maybe because mine were baked and not fried).
Easy Beet Chips
Author:
Ingredients
3 medium sized beets, thinly sliced
½-1 tablespoon olive oil
1 tsp. sea salt
Instructions
Preheat oven to 375 degrees. Line a baking sheet with parchment paper and set aside (this will help keep your baking sheet from staining)
Trim stem and leaves from beets (save for another use like pureeing into a smoothie).
Scrub beets then slice VERY thinly. It might be helpful to use a mandolin if you have one (I didn't—I just used a big chef's knife).
Toss sliced beets with olive oil and salt and spread out in single layer on prepared baking sheet.
Bake in preheated oven for 10-15 minutes or longer, until crispy. Flip partway through to achieve more "crisp". Cool and enjoy!
Notes
TIP: use a darker cutting board if you have one. I have a red one so used that to prevent staining.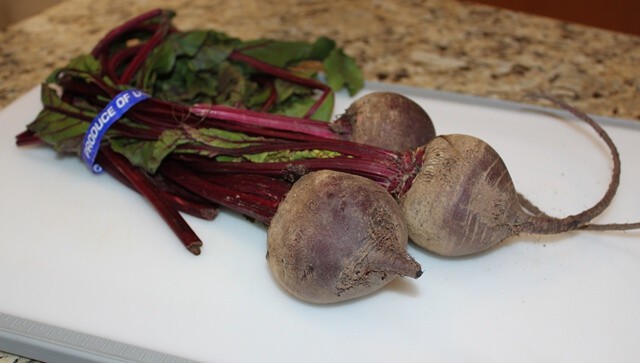 They may not look very beautiful on the outside but on the inside these beets is a gorgeous red color waiting to be eaten!
I will definitely be making these beet chips again, and hopefully expanding my repertoire when it comes to beets.
One thing I know I want to try is making all-natural food dyes. Recently, for my daughter's birthday party, we got her cake from Whole Foods (her birthday is very near the holidays and I just wasn't up to baking it myself). It was fantastic and best of all everything is all natural! The pinks and blues of the flowers were made from beet and purple cabbage "dye". One other great thing is that the quarter sheet cake was no more expensive than a cake of similar size from another bakery. Ok, that was a little tangent but it has made me more intrigued to discover new uses for beets!
Don't forget to check out the Eating the Alphabet Pinterest board. There you can keep track of all the recipes that are added month-to-month but also find new recipes from last year too. What's your favorite fruit, vegetable, grain or legume that starts with the letter A or B?
Be sure to check out all the other blogs shown below to discover new recipes and ideas!