This post may contain affiliate links. Please read my disclosure policy.
Thank you to MangoPan for sponsoring this post.
You know I like to meal plan and shop for those meals but sometimes there are just THOSE DAYS where even I don't feel like doing any of that much less cooking up dinner for my family. But takeout is not always that good for you and it can get expensive too. So I'm excited to tell you about a new meal delivery service called MangoPan. Imagine receiving all the fresh ingredients and recipe you need to get dinner on the table in under a half hour? It's here with MangoPan!

MangoPan is a new meal delivery service that lets you choose from several recipes to have them delivered directly to your door. Each week you can choose from six new and easy recipes that not only include a main protein of meat, fish or chicken but also a side of grains or vegetables. The spices you need are included also. Everything is portioned out perfectly so that very little ingredient prep is needed. All you do is follow the step-by-step recipe (that include written directions AND pictures!) to add everything together and before you know it, you have a delicious meal ready in no time! Ingredients are locally sourced when possible and super fresh.
Mango Pan sent me two different meal kits to try—the Linguine Pasta and Meatballs and the Braised Chicken with Garlic and Thyme and a side of asparagus, tomatoes and potatoes. Y'all, they were delicious! Just the right blend of herbs and spices helped bring our weeknight dinner to a new level. And have I mentioned how easy it is? I like that I didn't have to measure everything out but that I could add everything as I went along. And no more forgetting one key ingredient because everything is right there for you.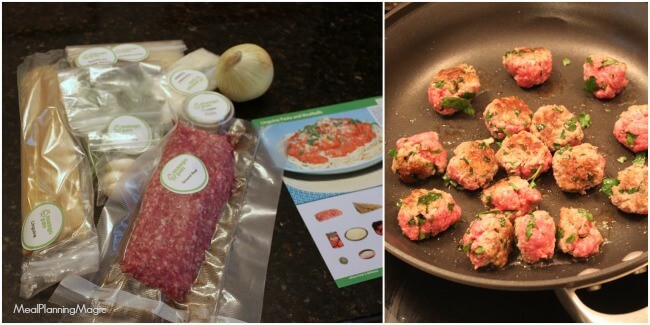 Now on to the meals. The Linguine Pasta and Meatballs was delicious. Even though it starts with canned tomatoes, it was very fresh and fancy. The addition of fresh garlic and parsley made the meatballs super delicious and it was a snap for this to come together.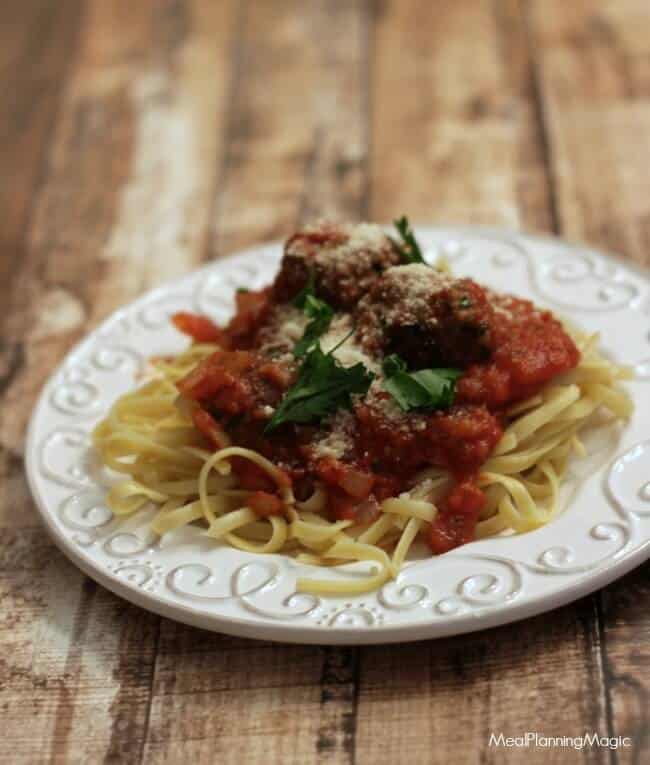 The Braised Chicken with Garlic and Thyme was my favorite! I'm not going to lie, it looked complicated and a little fancier than what I'm used to. Cooked tomatoes? I wasn't so sure about that. Oh my! This was so full of flavor I have found myself craving more. Who knew that chicken with a little salt, pepper, garlic and thyme could taste so good? The vegetables were a snap to prepare and were a perfect complement to the meal.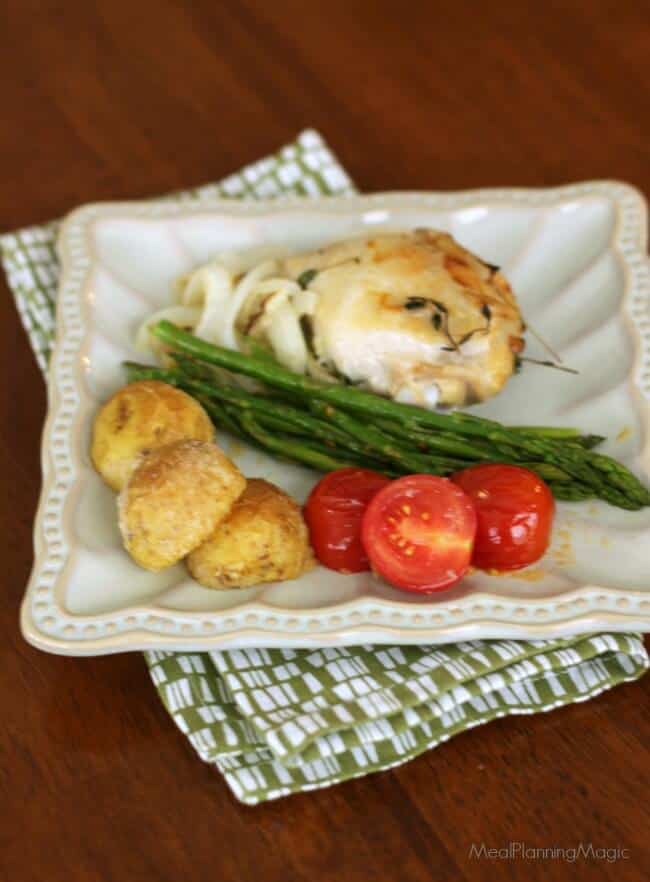 MangoPan offers vegetarian options and you can choose from two different days of the week to have your meal ingredients delivered. Choose from two or four servings and three or five meals per order. It really is a great option for just about anyone. I think it would be a great option for hosting another couple for an intimate dinner party.
At an average of $21 per meal to serve two people, it's a little pricier than what you might be able to do buying the ingredients on your own. But the bonus is, of course, the convenience but also not having any leftover ingredients that you might not be able to use up easily. And it's not much more expensive than going out to eat these days! There's not too many places where you can go out to eat for a fresh meal like this. And fast food is not so cheap and certainly not as good for you—even Chick-Fil-A is about $7 for one of their meal deals!
I hope you'll consider giving MangoPan a try. There's no commitment—you can order when you feel like it—and I promise, you won't be disappointed.
Disclaimer: I have been compensated by MangoPan for this blog post however all opinions are my own. I personally cannot wait to make the braised chicken again—it really was so flavorful!