-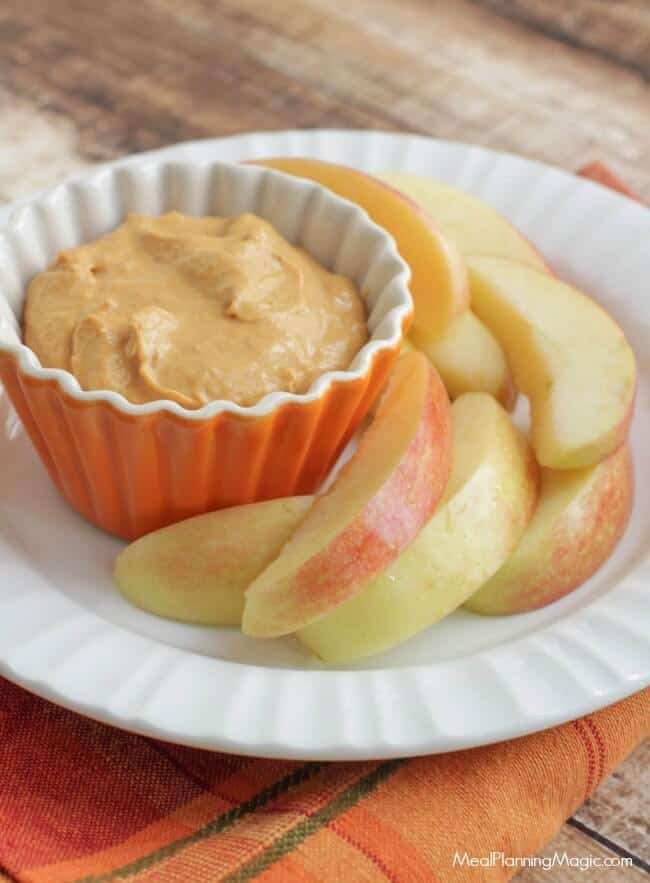 This post originally appeared on my blog four years ago. I've updated the photos and recipe a bit to share again with you all (and some of you may never have seen it!)
Don't say I didn't warn you but if you love pumpkin, you may find yourself eating all of this Creamy Pumpkin Dip yourself. At least I found myself heading that way when I made it! It's the perfect afternoon snack  Are you a pumpkin fan? My family can take it or leave it but I LOVE it! I even have a whole Pinterest board called Pumpkin-palooza. Yep, I'm crazy for pumpkin and don't just wait for fall to enjoy it!
With just five simple ingredients this Creamy Pumpkin Dip super quick to whip up!  It has just a hint of sweetness and with the apples, it's wonderful.  Before I knew it I had eaten nearly a whole apple with this dip. I hope you'll give it a try…it would be great on your fall holiday tables too as a healthier snack option. Enjoy!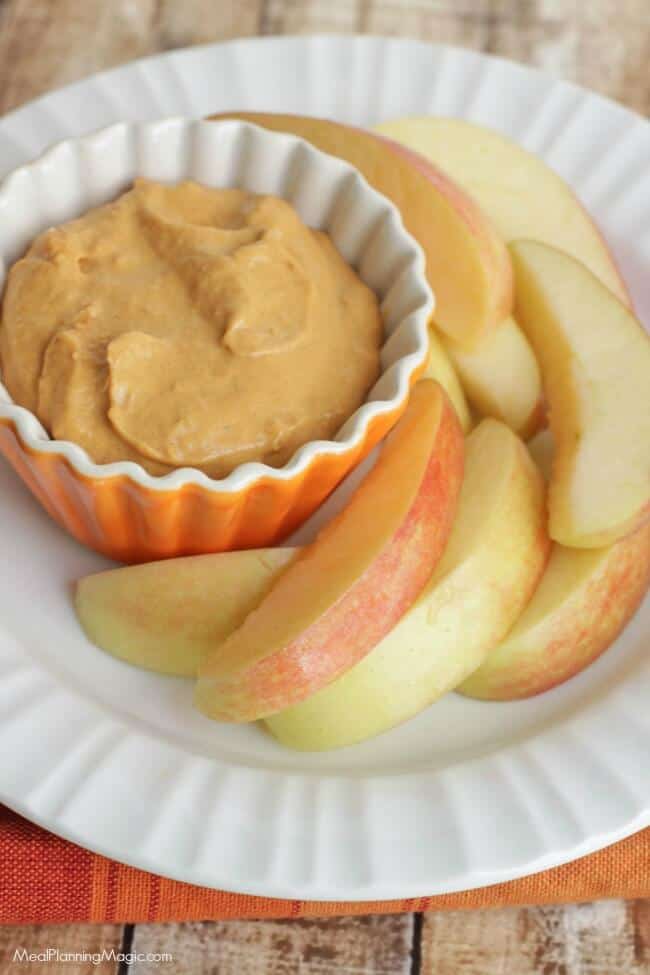 Creamy Pumpkin Dip
Ingredients
1 8

ounce

pacakge cream cheese

softened

1

C

pureed pumpkin

2-3

tablespoons

maple syrup

amount depends on your preference

1

tablespoon

ground cinnamon

2

tablespoons

brown sugar

or leave out if you prefer a less sweet dip

4

apples

sliced
Instructions
In a food processor, blend all ingredients together until smooth. If you do not have a food processor, you can stir by spoon, the food processor just makes it super creamy. Serve dip with sliced apples. Store leftovers in refrigerator (if you have any!)
Tried this recipe?
Mention @mealplanmom or tag #mealplanningmagic on Instagram when you share your photos!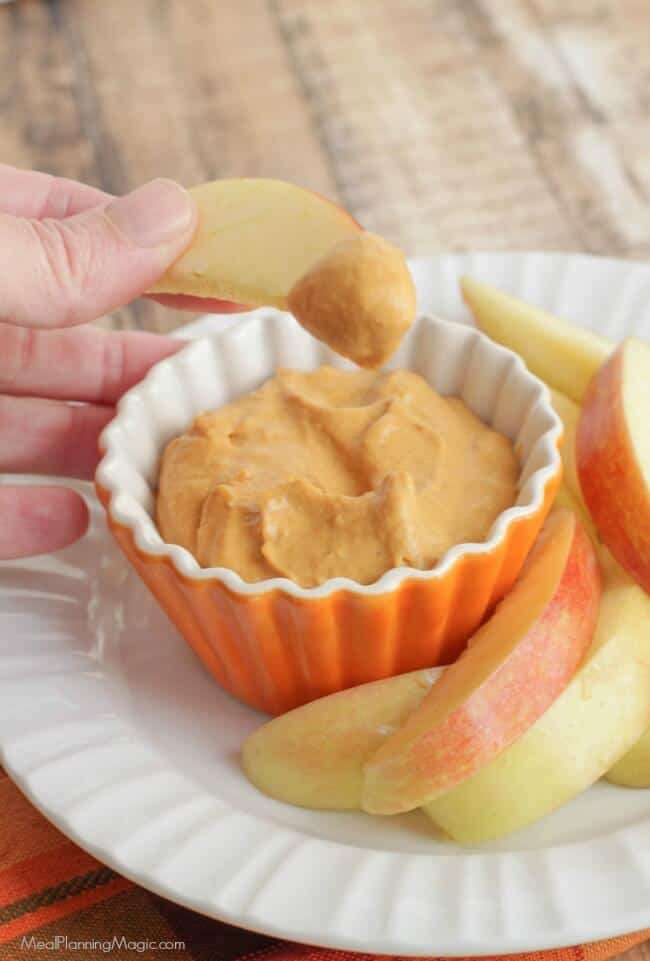 Since this post was originally part of a Sunday Supper event, I've decided to keep the links to all the recipes that were shared on the original post. The theme that week was the color orange! It's the perfect way to get into the fall mood, don't you think?
If you're not familiar with #SundaySupper, the idea is that we all need to take the time, even if it's just once a week, to get back to the family dinner table and share our time with family. For generations before ours, it was a weekly tradition and it's something that we hope to make a tradition once again in households across the globe. I cannot tell you how excited I am to check out everyone else's posts this week—the previews I was seeing were enough to get my mouth watering. Take some time to explore all these other bloggers and their all-things-orange recipes.
Sunrise (Breakfast and Brunch)
Paula from Vintage Kitchen Notes is bringing her Orange Ricotta Pancakes
Kris from In The Kitchen with Audrey and Maureen is making her Sweet Potato Pancakes
Erin from Dinners Dishes and Desserts is baking up some Pumpkin Chocolate Chip Muffins
Heather from Girlichef is bringing Pumpkin Doughnuts with Spiced Buttermilk Glaze
Nicole from Daily Dish Recipes is making Pumpkin Donut Puffs
Patti from Comfy Cuisine is bringing Classic Orange Marmalade
Claire from The Realistic Nutritionist is baking up some Spiced Low-Fat Pumpkin Biscuits
Sunithi from Sue's Nutrition Buzz is making Spice Pumpkin Ricotta Muffins with Craisins and Walnuts
Wendy from The Weekend Gourmet is cooking up some Pumpkin Maple Oatmeal
Jamie from Mama Mommy Mom is bringing Butternut Squash Butter
Chelsea from Chelsea's Culinary Indulgence is bringing Pumpkin Spiced Donuts with Chai Icing
High Noon (Soups, Salads and Sandwiches)
enee from Magnolia Days is serving up some Butternut Squash Soup
Beate from Galactopdx is bringing her Carrot Ginger Soup
Jen from Juanita's Cocina is making some Sweet Potato Salad
Megan from I Run For Wine is making Roasted Butternut Squash and Italian Sausage Soup With Adult Grilled Cheese
Sarah from What Smells So Good is filling our bowls with some Spicy Sweet Potato and Coconut Soup
Alice from Hip Foodie Mom is coming with her Roasted Carrot and Quinoa Salad
Susan from The Wimpy Vegetarian is making Spiced Sweet Potato Cider Soup
Tora from Tora's Real Food is bringing Butternut Squash and Tomato Soup
Melanie from From Fast Food to Fresh Food is making Monty's Pumpkin Soup
Lyn from The Lovely Pantry is bringing Pumpkin Coconut Soup
Kim from Cravings of a Lunatic is whipping up some Mandarin Chicken Salad
Sunset (Dinner and Main Dishes)
Amber from Mama's Blissful Bites is bringing Rice and Fig Stuffed Mini Pumpkins
Sarah from Crispy Bits & Burnt Ends is offering up some Pumpkin Ravioli in Sage Butter Sauce
Pam from The Meltaways is making some Spooky Stuffed Peppers
Shelia from Pippis In The Kitchen Again is serving her Roasted Squash and Ricotta with Honey
Patsy from Famfriendsfood is bringing her Carrot Souffle
Elizabeth from The Hand That Rocks The Ladle is making Baked Sweet Potatoes with Maple Pecan Shallot Butter
Laura from Small Wallet Big Appetite is bringing Chicken and Sweet Potato Fritters
Mehereen from Chattering Kitchen is making Sichuan Orange Glazed Chicken with Toasted Sesame Seeds
Tammi from Momma's Meals is making Hearty Pork Stew
Kristin from Kwistin's Favorites is making Orange Chicken
Soni from Soni's Food For Thought is cooking up some Rigatoni with Pumpkin Ricotta Sauce
Shelby from Diabetic Foodie is cooking up some Moroccan Vegetable Stew
Dara from Generation Y Foodie is bringing Butternut Squash Mac and Cheese
Brandie from Home Cooking Memories is sharing a DIY Baked Sweet Potato Bar
By The Bonfire (Sweets, Snacks and Sips)
Carla from Chocolate Moosey is making Pumpkin Tiramisu with Pumpkin Butter Caramel Sauce
Heather from Hezzi D's Books and Cooks is offering up some Pumpkin Cake Truffles
Shelia from Cooking Underwriter is bringing Sweet Potato Bacon Beet Salsa
Anne from Webicurean is making some Drunken Pumpkin Bread
Karen from In The Kitchen With KP is making Oven Baked Sweet Potato Chips
Leslie La Cocina De Leslie is making Sweet Potato Atole
Seet Fei from My Trials in The Kitchen is bringing Sweet Potatoes Mini Balls
Bree from Bree's Bites is bringing Peanut Butter Pumpkin Bites
Tara from Noshing With The Nolands is bringing Oranges En Suprise
Susan from The Girl in The Red Kitchen is making Pumpkin Chocolate Chip Scone with Pumpkin Glaze
Conni from Mrs. Mama Hen is making Orange Glazed Poundcake
Isabel from Family Foodie is baking up Moist Pumpkin Bread Reisipe
Cindy from Cindy's Recipes and Writings is baking up a Vegan Pumpkin Orange Cake
Kathya from Basic and Delicious is baking up Butternut Squash and Carrot Bread
Liz from That Skinny Chick Can Bake is serving up Pumpkin Roll with Cream Cheese Filling
Stephanie from The Cookie A Day Challenge is whipping up some Pumpkin Ice Cream Sandwiches
Katie from She Like Ruffles, He Likes Truffles is bringing Pumpkin Harvest Cookies
Nancy from Gotta Get Baked is baking up some Orange Macadamia Dark Chocolate Cookies
Angie from Big Bear's Wife is bringing Orange Soda Pumpkin Patch Cupcakes
Katy from Happy Baking Days is bringing Carrot Cake with Orange Glaze
Sandra from Midlife Road Trip is bringing Orange ya glad it's fall! Hungarian Apricot/Walnut pastries
Please be sure you join us on Twitter throughout the day during #SundaySupper. We'll be meeting up at 7:00 pm (Eastern) for our weekly #SundaySupper live chat where we'll talk about our favorite apple recipes! All you have to do is follow the #SundaySupper hashtag, or you can follow us through TweetChat! We'd also love to feature your apple recipes on our #SundaySupper Pinterest board and share them with all of our followers!