These Cranberry Crumble Bars are so simple to make up and versatile enough that you can enjoy them year round! They freeze well too so are easy to make ahead!
Click here to PIN this Simple Cranberry Crumble Bars recipe to Pinterest!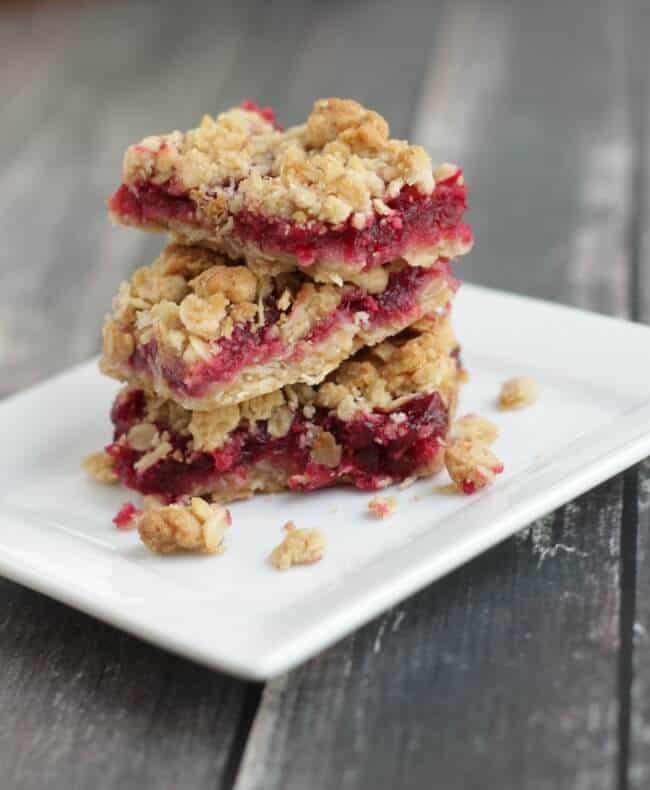 I first made these Cranberry Crumble Bars over six years ago for the 12 Weeks of Christmas Cookies blog hop I used to host with over 45 other bloggers. I no longer host that blog hop and I thought it was time I reshare this recipe with you all.  When I took the new photos, I forgot to take photos of the ingredients by themselves so I've just got a few photos for you with this update but trust me, they are worth sharing again!
This recipe originally came from one of grocery store recipe books that I used to collect. They don't seem to publish them quite as often so I guess that makes this recipe a classic, right? The book I found this recipe in is over 15 years old (am I dating myself here?) It's so simple to make that I have started making even more often.
I tweaked it just a bit with the amount of crumble mixture I made up and the result is delicious and my whole family was snacking on them! They kind of reminded me of a homemade version of a Nutrigrain type fruit bar, only better for you because the ingredients are all natural.
I recently made these for my book club and they were a hit. The balance of cranberry filling to crumb bar mixture is just right. The cranberry filling has just the right balance of sweet and tart.
The great thing about this Cranberry Crumble Bar recipe is that you can use fresh or frozen cranberries and make it year round. I personally love cranberries so enjoy them any time. A few years ago I even rounded up 75 Fresh Cranberry Recipes that you can check out here.
I may or may have been known to enjoy these for breakfast one day too. You can crumble them up over some plain vanilla and you have an instant fruit, granola and yogurt parfait! I love that they are made with all natural ingredients. You can adjust the amount of sugar a bit too in the cranberry filling if you want to watch the amount of sugar there.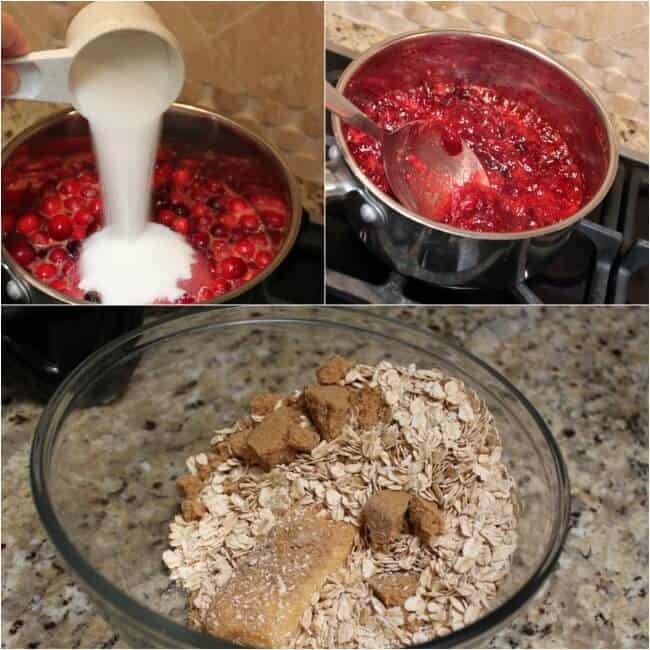 As I mentioned, these are easy to make but you can also freeze them. Make up a batch to have on hand for any sort of holiday gathering or just because.  Store them in an airtight container with layers of waxed paper so you can pull out what you want when you want them and enjoy any time.
I hope you give these Cranberry Crumble Bars a try!
[simple-recipe]