Brownie bites with marshmallow cream cheese topping is an easy dessert recipe that will satisfy anyone's sweet tooth.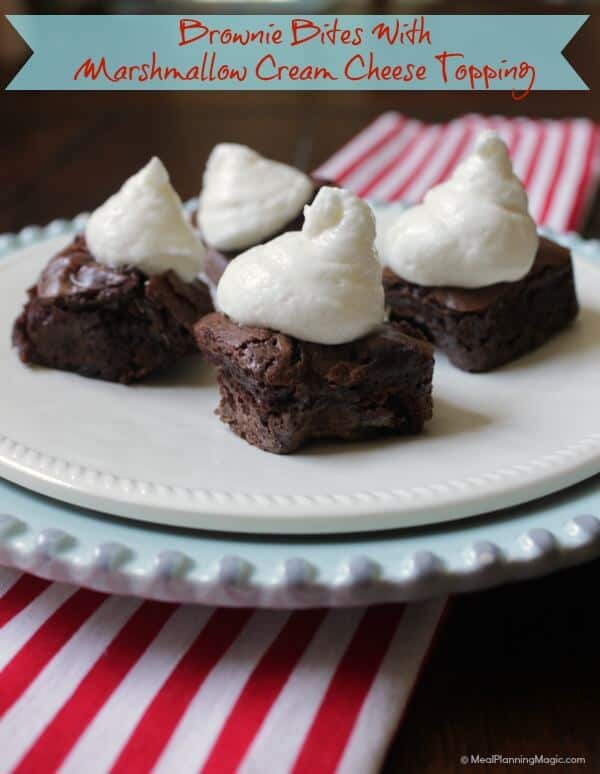 When I was little, they didn't have DVDs or even VHS (yes, I'm dating myself here). So it was a special treat when movies like Willy Wonka and the Chocolate Factory or Sound of Music came on television. We'd get to stay up late to watch those special movies. Willy Wonka has always been one of my favorites!
Fast forward a couple of decades and I became a fan of Johnny Depp's movies (who am I kidding? He had me with 21 Jump Street). So when Charlie and the Chocolate Factory came out almost ten years ago, I wanted to check it out. Indeed, it is quite different in many ways from the Willy Wonka version of Roald Dahl's book, but unique and kookie at the same time. I still prefer the Willy Wonka movie, but both surely provide lots of inspiration for some delicious foods, am I right?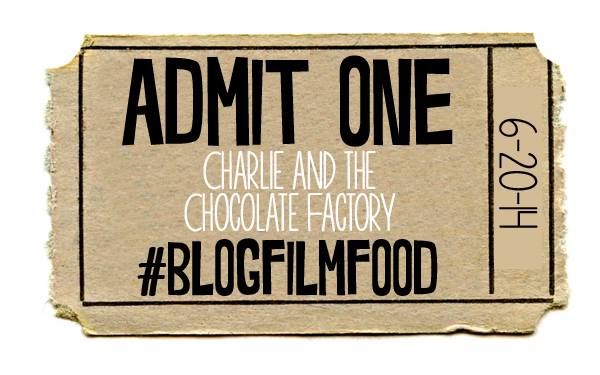 This month's Blog Film Food is being hosted by Jessica of Family Fun Journal blog and she chose Charlie and the Chocolate Factory for the movie. She's even giving a copy of the DVD away (see below for more details on that). Oh, the possibilities! One scene in the original movie that always stood out to me was how the guests to the factory went crazy in the room that had the mushrooms. All that sweet goopy goodness that they scooped up by the handful! I'm not totally sure what it was supposed to be but to me it seemed like marshmallows. So I had to include that.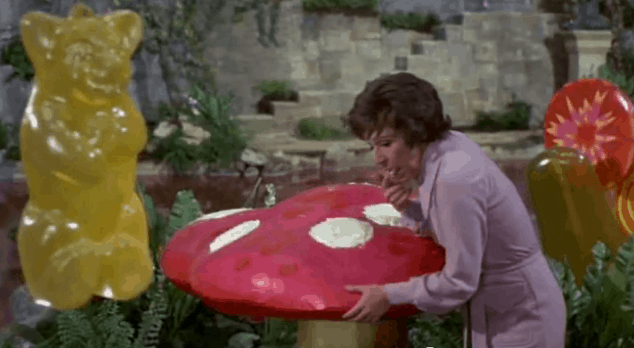 But in the Charlie movie, who could forget the chocolate river scene with Augustus Gloop? Here's a little refresher in case you want to check it out: http://youtu.be/cEVilNDXd0A All that chocolate and the Ooompa Loompas singing about it and Augustus–chocolatey goodness for sure! So I knew chocolate was for sure going to be part of my dish. But I wanted it to be something simple too, so I came up with the Brownie Bites With Marshmallow Cream Cheese Topping. I call this a cheater recipe because they are SO stinkin' easy and with creamy marshmallow goodness, you'll be asking why you've never tried this combination yourself!
Here's the brownie bites recipe. Enjoy!
Brownie Bites With Marshmallow Cream Cheese Topping
Author:
Ingredients
1 18 oz. box brownie mix (or make from scratch if you prefer)
7.5 oz container marshmallow creme
8 oz cream cheese, softened to room temperature
1/2 cup confectioners' sugar
Instructions
Bake brownies according to package directions. I used a Wilton silicone brownie squares baking mold but you could use a mini muffin pan or just cut your brownies into about 1 inch squares.
Cool brownies.
Meanwhile, combine marshmallow crème, cream cheese and confectioners sugar using mixer until creamy and smooth.
Using a decorators bag and large tip, spoon frosting mixture into bag and pipe dollop on top of brownies.
Serve immediately so frosting maintains shape or store in refrigerator until ready to serve (also store leftovers in refrigerator).
This month, my fellow Blog Film Food bloggers have cooked up some delicious treats for our event! I hope they inspire you to watch the movies (again, perhaps!) with your family and bake up something delicious to go with. Enjoy! Samoa Caramel Corn from Family Fun Journal Chocolate Covered Macaroon Bars – The Grant Life Homemade Chocolate Bars – Kirsten Oliphant Blog Chocolate Ice Cream – Moms Confession Blueberry Truffles – The Involuntary Housewife Salted Caramel Fudge – Eat Pray Read Love Darkest Chocolate Cake with Red Wine – Gleeful Gourmet And fun, fun! You can enter to win a copy of the Charlie and the Chocolate Factory DVD by entering the giveaway below! Hurry, it ends June 27, 2014 at 12:00 am (midnight, y'all)! a Rafflecopter giveaway
Disclaimer: This post contains Amazon Associate affiliate links. If you choose to purchase an item mentioned through the links here, I will receive a small percentage of the sale as thanks from Amazon and at no additional expense to you. Thanks for your support!