This post may contain affiliate links. Please read my disclosure policy.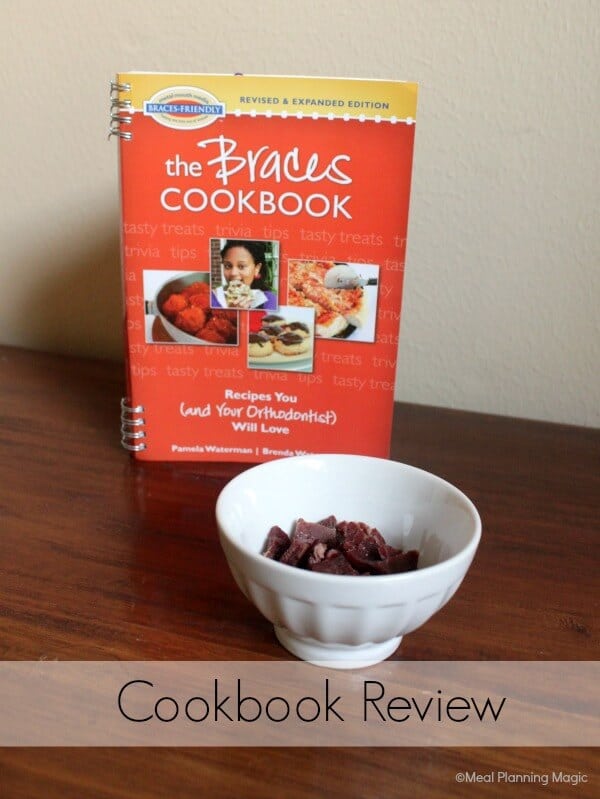 Thank you to Metal Mouth Media for providing a copy of this cookbook for my review.
It was earlier this summer that we officially became a braces family. My daughter started what will be more than three years of having braces and other appliances. Suddenly, some of her favorite foods (nuts, especially!) were off limits. So I got online and started researching braces friendly food options—especially for snacks. I was excited to come across The Braces Cookbook by Pamela and Brenda Waterman. And I was even more excited when Pamela contacted me to see if I'd be interested in doing a review of the book (she found me, I think, because I liked her site's Facebook page and Pinterest boards). I enthusiastically said yes!
Fittingly, the book arrived on the day that my daughter got her bottom braces. She immediately took it and started marking recipes for her to try. Many of the recipes in this cookbook are just modified versions of family favorites. But what I like is that the authors have taken the thinking out of this process. They've figured out favorites through years of trial and error in their own family and share them in this book.
What I especially like about this book are all the hints and tips throughout. There are fun facts about orthodontic history, trivia and other tips. It's kind of fun to read about all that!
Inside the Book
Chapters are broken up into traditional categories but also include those with special names like
Substitution Specials for Forbidden Foods: Includes substitutions like Twisty Soft Pretzels (instead of hard pretzel rods) or Shredded Jerky Jumbles (instead of beef jerky)
Be-Nice-To-Me Beverages: Great for those days when braces have been adjusted and your mouth is sore
Bracket-Friendly Breads and Breakfasts: Think quick breads, waffles and more.
Luscious Lunches & Main Meals: Includes Best Baked Spaghetti, Soft-Crust Pizza (this is a challenge we've personally found to be tricky—finding a soft crust that is easy to chew!) or Pepperoni Pizza Knots. My daughter made the Three-Cheese Macaroni Extravaganza all by herself and oh my! It was one of the best mac n' cheese recipes we've ever had. Even if you have a good recipe already—this is worth a try. It was so good that I never even got a picture of it before it was all gone. Oh, and it was even good cold (trust me—I sneaked a bit myself from the leftovers–which didn't last long!)
Very Tender Vegetables: Includes tips on how to prepare veggies so they're easier to eat.
Definitely Deserved Desserts: Not much to say here–who doesn't love desserts? The authors have taken some favorite treats that are often crunchy and taken those flavors and made them braces friendly like the Molasses Raisin Bars, Peach n' Pear Softies and Jiffy Jam Delights.
Cooking Tips: I really like this section because the authors have taken the thinking out of meal preparation. The Quick Meal Tips at Home and Packing Lunches & Dining Out tips are super valuable. When I was reading them I thought "Why didn't I think of that?"
Comfort Tips: Here, the authors include tips for difficult days and everyday challenges to help make having braces or other orthodontic appliances easier to bear.
We've got lots of recipes on our "to-make" list but the Shredded Jerky Jumbles were a must try right from the start. Here's the recipe:
Shredded Jerky Jumbles (Braces-Friendly)
Ingredients
From the book [url href="https://www.amazon.com/gp/product/0977492273?ie=UTF8&camp=1789&creativeASIN=0977492273&linkCode=xm2&tag=meaplamag-20″ target="_blank" rel="nofollow"]The Braces Cookbook[/url]
2 oz. dried beef jerky, any flavor
1 C boiling water
Instructions
Cut the beef jerky into quarter-inch bites with kitchen shears or a sharp knife. Put them in a large bowl and pour the boiling water over them. Let the jerky bits soak for 30 minutes, then drain off the water. Eat them with a spoon—or even your fingers!
Check out the website from Metal Mouth Media for lots more info. on all things braces related. If you're an orthodontist (or work in an orthodontist's office), you can also order copies in bulk to resell to your patients through that website (or if you ARE an ortho patient family, ask your orthodontist to sell them for the benefit of other patients, too!) You can also order individual copies of the book through THIS LINK on Amazon. If you've got braces-wearing family members, what are your biggest challenges when it comes to finding braces friendly foods?
Don't want to miss a review for other great products or services? Be sure to SIGN UP HERE to receive updates via email or RSS feed (you can choose the reader you prefer!) And don't forget you can always follow me on Facebook, Twitter, Pinterest or Instagram. They all offer a little something different and are a great way to stay in the loop on new menu plans, recipe ideas, giveaways, organizing tips and more!
Disclaimer: I did receive a copy of this book but no additional compensation. I am an Amazon Affiliate however and you can read more about what that means by clicking here. All opinions are my own.