This post may contain affiliate links. Please read my disclosure policy.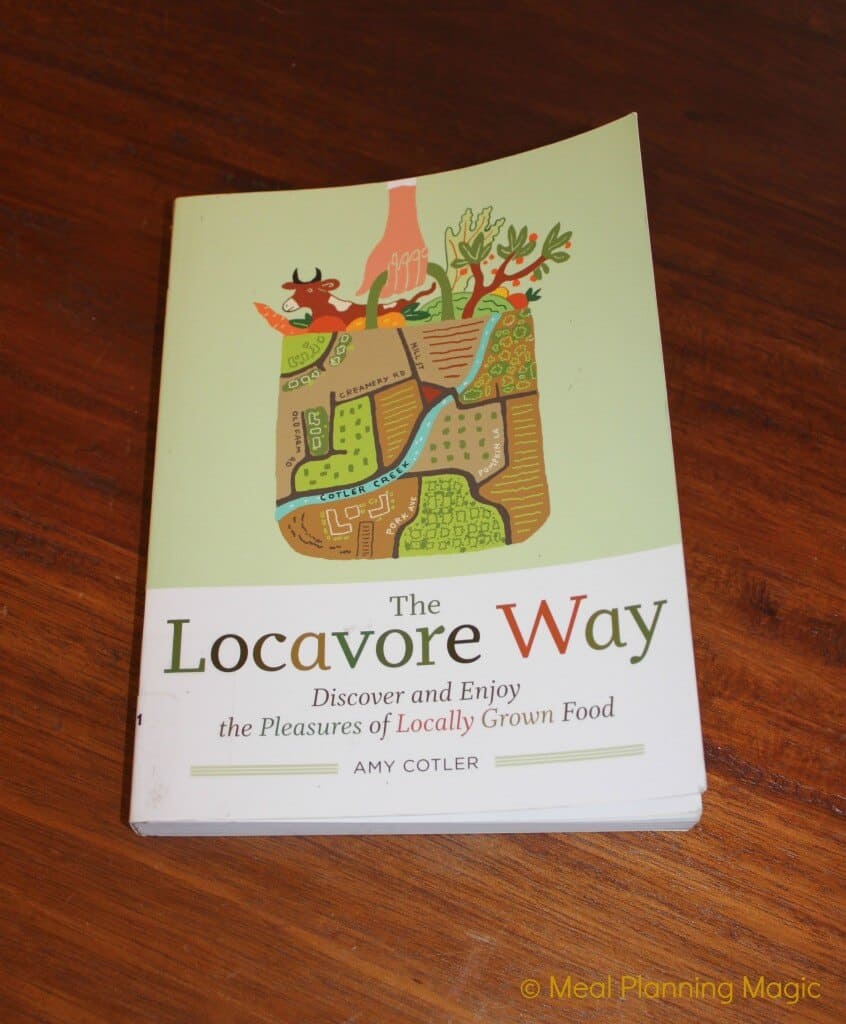 I was so excited when I discovered The Locavore Way at my local library! Even though I feel like I've come a long way in my effort to try to eat more locally, I felt like I still could use some help so I snatched it up to take a closer look. It seems everywhere we turn we are encouraged to "eat local" but for me, that task seems a bit daunting. Sure, I can go to the local farmer's market on the weekends but what about those weekends that our schedule does not allow it? Or maybe on those weeks when I feel  that my budget won't allow it? The good news for me at least is that I've started noticing that more of the local grocery store chains in my area are offering produce and other items from local farmers and vendors.
If you'd like to start eating more locally grown and produced food, The Locavore Way by Amy Cotler give you a great roadmap to get started. Cotler starts out with an overview of what locavore means (basically it's someone who eats food grown locally whenever possible) and why you should try to become one (for the health of your family and planet in many ways, to connect with the source of your food and boost the local economy among other things!). The book is filled with snippets and tips here and there throughout that almost make it seem like a good friend who's just passing on some advice (meaning it's not too preachy to make you feel guilty!)
Cotler has broken the book down into three sections: Shop for Local Foods, Eat Simply and Seasonally and Connect and Engage. Within each section she gives tips on how to accomplish those goals like for visiting farmers markets, joining a CSA or buying club. Sprinkled throughout are storage and preparation guidelines as well as recipes for using seasonal produce and other foods. Cooking from scratch not your thing but you still want to support the effort? She gives tips on how to do that including eating out at restaurants that are part of the Chefs Collaborative or organizing potlucks and other get togethers with friends to enjoy not only good food but good company too. The last section outlines ways to get your hands dirty by doing the ultimate for eating local and growing a garden or arranging for a farm tour to find out where your produce is being grown. There are tips on how to include the kids and make it a true family affair. I actually found the Appendix to be especially interesting as she includes a timeline of key events in food history, a local food and sustainability glossary and a good sized listing of websites to visit and recommended reading to further the quest to become more of a locavore.
If you're looking to get started on joining the "eat local" movement but don't quite know where to begin, I'd definitely recommend this book.
Disclaimer: I got this book from my local library. I have not been compensated for this review and all opinions are my own. However I am an Amazon Associate which means if you choose to purchase this book from my site through this review, I will receive a small percentage of that sale as a thank you from Amazon for referring you. And I appreciate it!