It's time for another Crazy Cooking Challenge hosted by Tina at Mom's Crazy Cooking. This month's theme, blueberry muffins, was right up my alley! And coincidentally, I had already planned a post about one of MY favorites, the Blueberry Oatmeal Muffins that I posted a couple of weeks ago. So this is a bonus for me!
But since the challenge includes finding a recipe from another blogger and trying it out I naturally turned to one of my next favorite flavor combination and that is lemon and blueberry. I love just about anything lemon and with the combination of blueberry I just can't resist.
So, when searching Pinterest for a recipe with those flavors, I came upon this one from the Fifteenspatulas blog. Let me tell, you we loved these so much that I actually made up two batches within about three days. They were devoured! My daughter especially loved them! Since the recipe called for Meyer lemons, which have a slightly orange-lemon flavor, I substituted some orange zest for some of the lemon zest to come up with some lemony-orange blueberry muffins. And let me tell you, these are bursting with blueberries. I mean bursting! I glad we have a ton of blueberries still left in our freezer from last year's picking outing—no skimping here!
I actually prepared these two different ways for each batch. The original recipe calls for 8 oz. of flour which should be about 1 ½ cups. I have a new kitchen scale so I trust it pretty well, but when I measured out those 8 oz. it was barely one cup of flour and just didn't seem like enough. So I went ahead and used1 ½ cups in that first batch. I will tell you, the batter was really thick but the muffins had a nice crown on them and were a perfect texture.
The second batch I followed the recipe using the measurements only by weight. The batter was definitely more like what I'm used to with a muffin batter. When they baked up though, they were kind of flat and not as pretty. They still tasted delicious but the texture was different. Not bad, per se, just different and we decided that the first batch was better.
One other tip, I have adjusted the amount of streusel to make from the original recipe. It made A LOT which ended up coming in handy for my second batch in only a couple of days. But for one batch, only about half of the original recipe is needed. We like just a slight bit of streusel crunchy topping but if you like a lot, go ahead and double what I've got written here.
In case you missed it before, you may be asking how does this Crazy Cooking Challenge work you ask? Well, once month (on the 7th specifically), a group of food bloggers get together to feature one food item for that month. We all make that item, in our own kitchens and in our own way, but add our own special touches.
The other unique twist on the Challenge is that we don't just make a recipe from our personal files. We are to choose an all-new recipe found on another blogger's blog! This was a bit of a challenge because there are LOTS of recipes out there. But I found this one on the In Between Laundry blog. What attracted me was the extra veggies like the shredded carrots and chopped celery. Those are new additions that I don't normally have in my usual sauce. This is a chunky sauce so I ended up taking about half of it and pulsing it a few times in the food processor to make it a little "smoother". Then I added that back to the rest of the chunky sauce and it was perfect!
Next time I may try to double this recipe and sneak a few into the freezer before they all get eaten up!
Here's the recipe with my adjustments:
LEMON ORANGE BLUEBERRY MUFFINS
Adapted from Fifteen Spatulas

Ingredients
1 ½ cups all purpose flour
3/4 cup sugar
2 tsp baking powder
pinch of salt
Zests of two small lemons
Zest of half large orange or one small
1/3 cup vegetable oil
1 extra large egg
1/3 cup milk
2 cups blueberries
Streusel Crumb Topping Ingredients
¼ Cup sugar
¼ cup flour
2 T butter
½ tsp cinnamon
Dice up the butter into cubes, and work all of the ingredients together with your fingertips, until it forms a bunch of crumbs and clumps. Sprinkle it over the tops of your muffins.

Directions
Preheat the oven to 400 degrees F. Spray muffin pan with non-stick spray. Prepare the streusel crumb topping (recipe below).
Whisk to combine the flour, sugar, salt, baking powder and lemon and orange zest. Take a tablespoon of the mixture and toss it with the blueberries. This ensures that the blueberries stay suspended throughout the muffin, instead of falling to the bottom—very important!

Place the vegetable oil, egg, and milk in a bowl, and whisk to combine. Add that to the flour mixture, and remember, this batter will be thick! Lumps are ok!
Add the blueberries, and fold them in gently. Use a scooper to portion them out into the muffin cups, and sprinkle the crumb topping all over the tops. Bake for 20-22 minutes until a toothpick inserted into the center comes out with no wet batter. Let them cool, and enjoy!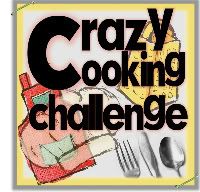 You can enjoy visiting the other Crazy Cooking Challenge participants through the links below. And the extra twist? If you like my recipe, please click the 'like' button by my entry to vote for me. The recipe with the most votes will be deemed the ULTIMATE RECIPE for this challenge. Enjoy!